National, local general election results
The Dallas Examiner | 11/14/2016, 4:30 a.m.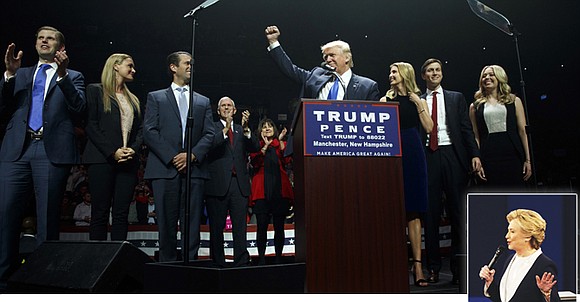 The Dallas Examiner
Presidential candidate Hillary Clinton delivered her concession speech on Wednesday at 10:30 a.m. at the New Yorker Hotel in New York, New York.
"To Barack and Michelle Obama, our country owes you an enormous debt of gratitude. We thank you for your graceful, determined leadership that has meant so much to so many Americans and people across the world," she said during her speech, concluding with, "I believe we are stronger together and will go forward together. And you should never, ever regret fighting for that. You know, scripture tells us, let us not grow weary of doing good, for in good season we shall reap. My friends, let us have faith in each other, let us not grow weary and lose heart, for there are more seasons to come and there is more work to do."
Though Dallas County voted overwhelmingly Democrat, supporting Clinton by 61 percent, it was overshadowed by the majority of Texas voters who voted 53 percent in favor of presidential candidate Donald Trump. Texas has a total of 38 electoral votes, the highest of all states, with Florida and New York next in line with 29 electoral votes.
General Election Results as of Wednesday morning
President and Vice President Electoral Votes
Donald J. Trump/Mike Pence-Rep 276
Hillary Clinton/Tim Kaine-Dem 218
U.S. Senate
Republicans 51
Democrats 47
U.S. House of Representatives
Republicans 239
Democrats 192
United States Representative, District 5
Jeb Hensarling-Rep 79%
Ken Ashby-Lib 21%
United States Representative, District 24
Kenny E. Marchant-Rep 56%
Jan McDowell-Dem 39%
Mike Kolls-Lib 3%
Kevin McCormick-Grn 1%
United States Representative, District 26
Michael C. Burgess-Rep 66%
Eric Mauck-Dem 30%
Mark Boler-Lib 4%
United States Representative, District 30
Charles Lingerfelt-Rep 19%
Eddie Bernice Johnson-Dem 78%
Jarrett R. Woods-Lib 2%
Thom Prentice-Grn 1%
United States Representative, District 32
Pete Sessions-Rep 71%
Ed Rankin-Lib 19%
Gary Stuard-Grn 10%
United States Representative, District 33
M. Mark Mitchell-Rep 26%
Marc Veasey-Dem 74%
Railroad Commissioner
Wayne Christian-Rep 53%
Grady Yarbrough-Dem 38%
Mark Miller-Lib 5%
Martina Salinas-Grn 3%
Justice, Supreme Court, Place 3
Debra Lehrmann-Rep 55%
Mike Westergren-Dem 39%
Kathie Glass-Lib 4%
Rodolfo Rivera Munoz-Grn 3%
Justice, Supreme Court, Place 5
Paul Green-Rep 54%
Dori Contreras Garza-Dem 41%
Tom Oxford-Lib 3%
Charles E. Waterbury-Grn 1%
Justice, Supreme Court, Place 9
Eva Guzman-Rep 56%
Savannah Robinson-Dem 39%
Don Fulton-Lib 3%
Jim Chisholm-Grn 1%
Judge, Court of Criminal Appeals, Place 2
Mary Lou Keel-Rep 55%
Lawrence "Larry" Meyers-Dem 40%
Mark Ash-Lib 4%
Adam King Blackwell Reposa-Grn 1%
Judge, Court of Criminal Appeals, Place 5
Scott Walker-Rep 55%
Betsy Johnson-Dem 40%
William Bryan Strange, III-Lib 3%
Judith Sanders-Castro-Grn 2%
Judge, Court of Criminal Appeals, Place 6
Michael E. Keasler-Rep 55%
Robert Burns-Dem 41%
Mark W. Bennett-Lib 4%
State Representative, District 100
Eric Johnson-Dem 87%
Heather Marcus-Lib 13%
State Representative, District 102
Linda Koop-Rep 55%
Laura Irvin-Dem 45%
State Representative, District 103
Rafael M. Anchia-Dem (Uncontested)
State Representative, District 104
Roberto R. Alonzo-Dem (Uncontested)
State Representative, District 105
Rodney Anderson-Rep 50%
Terry Meza-Dem 50%
State Representative, District 107