bigBANG! Equity in Action – part III: Retired Dallas police chief David Brown
DENISHA McKNIGHT | 11/28/2016, 10:48 a.m.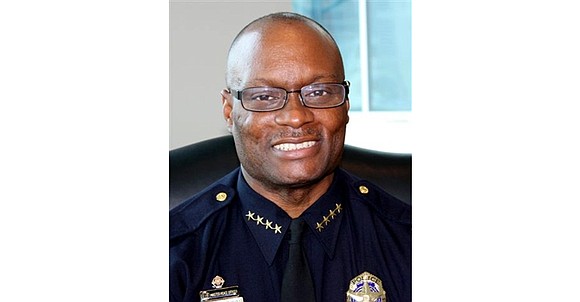 The Dallas Examiner
According to former Dallas police chief David Brown, Dallas is similar to an edelweiss flower: a fuzzy, white mountain sunflower with a yellow center that symbolizes love and dedication and is found prominently in Germany.
The only way to obtain the flower is to climb the Alps and grab one yourself. The determination to achieve this flower is what Brown illustrated is needed to bring the community closer together.
"You have to work for it," he said during a retirement speech at a recent Paul Quinn College event. "You have to work for this flower. You have to work for certain things. Nobody is going to give it to you."
After 33 years in law enforcement, Brown is retired and ready to share his wisdom with other future leaders in the community.
During his speech at the bigBang! luncheon, the former chief opened up about the obstacles he had to tackle during his stint in law enforcement, such as dealing with people with mental illnesses, which has often lead to overcrowded jails, and police-involved shootings.
"Our biggest mental health solvers are our jails," he said. "Some problems can't be solved by cops. Cops were never meant to treat mental illness or drug addiction."
Brown also addressed the recent uptick in police brutality in the country.
"There are some cops that don't need to be in this profession," he said. "There are some people who can't do this job under stress."
Aside from the politically-driven topics, Brown stressed the importance of local leaders from various professions joining forces to address these issues.
"We need the work that you do in this room to solve these problems," he expressed. "I'm hoping that we can stay encouraged to do this work. We have to be reminded that we are stronger when we stick together and of how it used to be."
Soon after, Brown recalled his many encounters with people from different walks of life who helped him appreciate other races.
He centered the luncheon around a particular story about a time when he participated in his school's rendition of the 1965 musical The Sound of Music, which is based around World War II, where he was casted as Captain Von Trapp, a former Austrian naval officer who attempts to escape from the Nazi army.
Brown said he initially disliked the character because he didn't feel the role fit him as an African American male, but later, he found a certain appreciation and love for the play and had a better understanding of the characters in it.
The most thought-provoking story he recounted was when he shared a meal with a stranger – a starving man – on a Greyhound bus and later became friends with him. Years later after he appeared on CNN, Brown said he received a letter from that same friend telling him that he was proud of him and that their first encounter helped him change his perception of African Americans.
"Be willing to share your life with somebody who doesn't look like you," he said as he summarized his speech. "It's a melting pot. All we have to do is evoke the spirit of what our founding fathers built for us, [which is] helping others pursue what we have achieved."
As the brief speech came to a close, audience members gave the retired chief a roaring standing ovation and joined him in a song, Edelweiss from The Sound of Music, ending the luncheon in a lighthearted manner.