Kick-Back Party for homeless youth
JESSICA NGBOR | 11/28/2016, 10:50 a.m.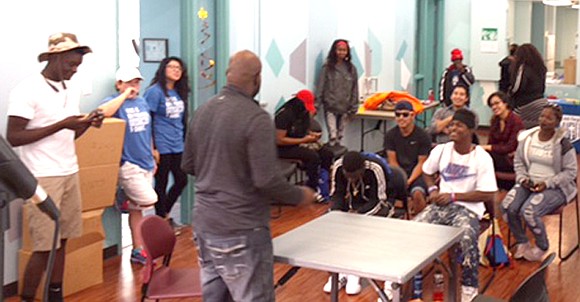 The Dallas Examiner
A free Kick-Back Party for youth ages 18 to 24 experiencing homelessness was hosted by the Metro Dallas Homeless Alliance Youth Taskforce, Nov. 12.
The event, held at the Exall Recreation Center, offered live music to give the youth a chance to kick back, relax, sing and dance. There was also an opportunity for the youth to perform spoken word and poetry.
"The homeless youths ages 18 to 24 are very invisible. We wanted to come up with a creative way to catch them and so we called it a kickback party," said Carla Cleeton, assistant director at CitySquare TRAC.
The idea to host this event came about last year, when the legislature set aside money to fight homelessness among youths based on data provided by MDHA. The data, released in early January, showed that there were a total of 153 unaccompanied youths – 130 of whom were described as being in either emergency or transitional and 23 unsheltered. Among these youth, 63 were African American.
The party kicked off with youth filling out registration forms that would help workers determine their needs as well as services and resources that are available. They also received bags of toiletries and were able to pick out shirts, pants and coats from the clothing inventory.
There were also a few nonprofit organizations at the party to offer additional support.
"We had food donated, more vendors, volunteers and new resources that we didn't know of," Cleeton explained. The effort received support from 15 organizations.
In one room, nurses from Parkland Hospital offered free flu shots.
Focus on Teens was on site to offer its services to the youth. The organization provides a drop-in center for homeless teens in high school, as well as programs for drug abuse prevention and awareness, suicide and crisis, mental health, healthy living and an intern program.
Year Up was also in attendance. The program provides urban young adults with experience, skills and guidance to get them to the top of their professional careers and give them an opportunity to advance themselves through higher education.
In the other room, the youths had opportunities to visit other nonprofits and learn about attending The University of Texas at Dallas, Texas A&M College of Dentistry and Eastfield College.
The taskforce didn't reach the turnout of youths they would have liked at this year's party. Cleeton believes it may have been because of the time of the day. She said they hope the next one is much bigger.
"Next year, we hope to attract more and have a radio station out there to bring more of a party feel. Each year we are growing. Slowly but surely, we are getting the word out," Cleeton said.