Teen technology center opens in South Dallas
DIANE XAVIER
 | 10/28/2016, 12:12 p.m.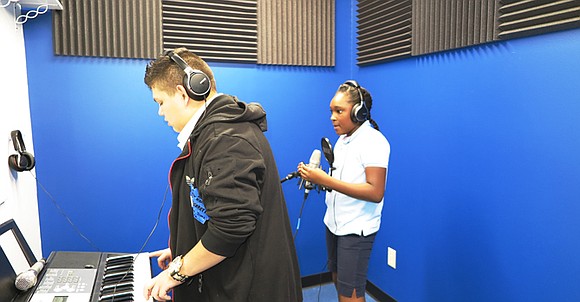 The Dallas Examiner
Teenagers dreaming of becoming the next technology genius, internet mogul or famous artist may now have their chance with the help of the new Best Buy Teen Tech Center opened in South Dallas.
The center, located adjacent to the Juanita J. Craft Recreation Center on Spring Ave., was unveiled by the City of Dallas Park and Recreation Board Sept. 29.
"We received a community grant from Best Buy for the Teen Tech Center and they provided all the equipment and software," said Jenny Cantu, DPRD special projects coordinator. "It is an open space for teens to work with different technologies. "The new center includes opportunities for undeserved youth ages 12 through 17 to get hands on experience working with digital music and film production, photography, 3D design and animation, robotics, digital design, and video game app developments."
Cantu said the state of the art facility has a recording studio with a sound booth and editing studio, movie production equipment, along with computers with all the latest technology needed to create the projects that will turn dreams into reality for youth looking to work on their creative side.
"What better way to assist the youth of the Dallas/Fort. Worth area than to provide a safe, fun and educational place that teens can go to experience all that tech has to offer – from 3D printing and robotics to music and video production," said Shane Kitzman, spokesman for Best Buy, stating that Dallas is the 12th city in the U.S. to open one of the corporation's tech centers for teenagers.
The tech center is open weekdays from 4 p.m. to 8 p.m., with special projects and workshops on Saturday. The only requirement for students is that the youth need to have a recreation center card and register with the DPRD to get access to the facility.
"At Best Buy, we believe technology has immense power to enable people to dream big and accomplish great things. But many teens lack access to tech tools like computers and Internet access and the training to use them. This creates a very real challenge for preparing the next generation of talent that our country needs to compete and succeed in a global economy," Kitzman said. "We are committed to giving youth hands-on access to the tech education and tools they need to be successful in school and in their future careers, and to help bridge the digital divide. This is a place where teens can move from becoming consumers of technology to creators of it. With the help of the city of Dallas, the Best Buy Teen Tech Center will inspire college majors and careers and change the lives of those who take advantage of the space as it will open their eyes to a livelihood they may have never considered."
Cantu said right now the traffic has been light as far as participation, and the city hopes to get the word out about the new center. She said the goal is to have teen mentors train other teens on the technology and uses of the facility.
"We really want to build our teen population and this gives them the opportunity they normally wouldn't have to get their hands on high tech equipment and learn how to be technology creators rather than technology consumers," she said.