Why it matters: Issues at stake – the series
Associated Press | 10/28/2016, 1:18 p.m.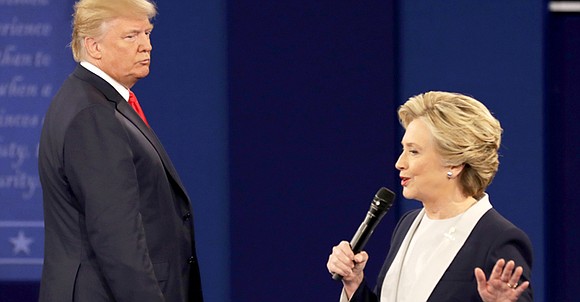 WASHINGTON – A selection of issues at stake in the presidential election and their impact on Americans, in brief:
Race and policing
The continued deaths of unarmed African American men, women and children at the hands of police are turning into one of the most consequential civil rights issues of the new millennium. Since the death of Michael Brown in Ferguson, Missouri, the sharing of video-recorded deaths of African Americans at the hands of law enforcement has sparked unrest in many cities around the country, and prompted calls for additional training and more monitoring of police forces.
Hillary Clinton has offered specific proposals, including legislation that would help end racial profiling, providing federal matching funds for more police body cameras and overhauling mandatory minimum sentencing.
Donald Trump has described himself as the "law and order" candidate and has not specifically addressed plans on race and policing. He endorsed a former New York City police policy called "stop and frisk" after unrest in Charlotte, North Carolina, over the police shooting of Keith Lamont Scott.
Voting rights
Voting rights in America are in flux. Republican-controlled legislatures are tightening voter laws, placing limits on early voting and same-day registration and imposing new requirements for IDs at polling places. In 2013, the Supreme Court invalidated a key provision of the 1965 Voting Rights Act. That provision had required states with a history of racial discrimination to get federal preclearance to change election laws.
The issue has become highly partisan with the rapid growth of minority populations, which in recent presidential elections have tilted heavily Democratic.
The Obama Justice Department has challenged voter ID and other laws, saying they could restrict access for minorities and young people. Recent lower court rulings temporarily softened some of the toughest restrictions, but litigation remains knotted up with Supreme Court appeals likely. Bills in Congress to restore the Voting Rights Act are stalled.
Trump opposes same-day voter registration, backing laws to ensure only citizens vote. Clinton wants Congress to restore the Voting Rights Act and seeks a national standard of at least 20 days of early in-person voting.
Health care
About 9 in 10 Americans now have health insurance, more than at any time in history. But progress is incomplete, and the future far from certain. Rising costs could bedevil the next occupant of the White House.
Millions of people previously shut out have been covered by President Barack Obama's health care law. No one can be denied coverage anymore because of a pre-existing condition. But "Obamacare" remains divisive, and premiums for next year are rising sharply in many communities.
Whether Americans would be better off trading for a GOP plan is another question. A recent study found that Trump's proposal would make 18 million people uninsured. GOP congressional leaders have a more comprehensive approach, but key details are still missing.
Overall health care spending is trending higher again, and prices for prescription drugs – new and old – are a major worry.
Medicare's insolvency date has moved up by two years – to 2028.