Memorial confronts South's troubled history
JAY REEVES | 10/31/2016, 5:51 p.m.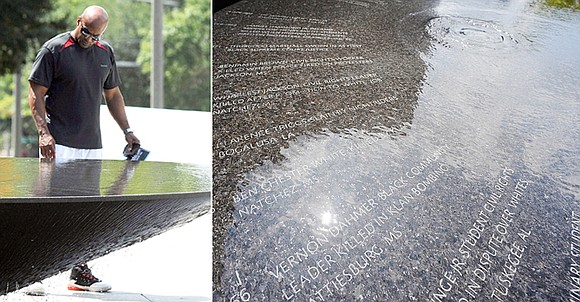 MONTGOMERY, Ala. (AP) – Southern states have long welcomed tourists retracing the footsteps of the late Dr. Martin Luther King Jr. and others who opposed segregation. Now the Alabama city that was the first capital of the Confederacy is set to become home to a privately funded museum and monument that could make some visitors wince: a memorial to Black lynching victims.
The nonprofit Equal Justice Initiative has announced it is building a memorial in the state capital of Montgomery devoted to 4,075 Blacks its research shows were killed by lynching in the U.S. from 1877 to 1950.
The nonprofit's director, Bryan Stevenson, said the aim is to help "change the landscape" of American racial discourse by openly acknowledging a painful past, much as Germany has Holocaust memorials and South Africa a museum on its past state-sanctioned segregation – apartheid.
He said that while hundreds of Whites were lynched in roughly the same period of U.S. history, the memorial's focus will be on "terror lynchings" against Blacks in a dozen Southern states – whether by hanging, gunshots, beatings, burnings or other forms of killing used in the past to terrorize Black communities.
"I don't think we can afford to continue pretending that there aren't these really troubling chapters in our history," Stevenson said. "I think we've got to deal with it."
Set to open next year on the site of a former low-cost housing project, the monument is to be accompanied by a museum a few blocks away exploring the history of Blacks in America from slavery to the present.
Work is already under way on both. How they will be received is an open question.
Pausing at a historical plaque while visiting Montgomery's civil rights sites, North Carolina tourist Nancy Lange hesitated at the thought of a lynching memorial. "That is tough. I can't even think beyond that word," said Lange, 58, who's White.
But daughter Teresa Lange, 27, said a memorial could be valuable in teaching about America's racial past and fostering conversation about today's climate of Black Lives Matter, police violence against minorities and racial strife.
"How many people talk about lynching? How many people talk about the hate crimes that still go on today?" she said. "As a tourist I think it would be a good thing. ... I'd go see it."
Equal Justice Initiative said the monument and museum also would help counter glorification, in some quarters, of the Confederacy across the South while telling the painful story of race in America. The law firm and its founder, Stevenson, represent death row inmates and advocates for racial justice.
The group already has erected bronze plaques around Montgomery to denote bygone slave markets; another group has built a memorial honoring civil rights martyrs, mostly African Americans. Elsewhere in Montgomery, a marker explains the history of the church parsonage bombed while King lived there in 1956.
The monument set for a hill in view of Alabama's Capitol – where the Confederacy was formed – is to include thousands of names of lynching victims etched on hundreds of concrete columns. Each column represents a U.S. county where a lynching occurred. The names were gathered both in past research and new work by Equal Justice Initiative.