Monday Night Politics: Forum focuses on the Dallas County court of law
DIANE XAVIER
 | 10/31/2016, 5:45 p.m.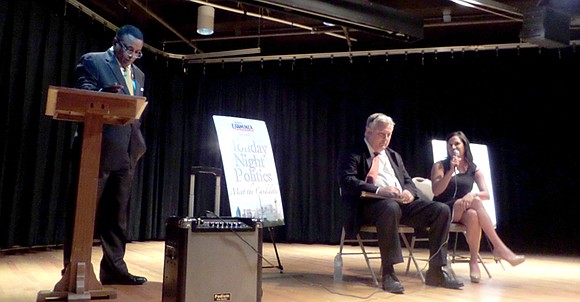 The Dallas Examiner
Monday Night Politics: Meet the Candidates, presented by The Dallas Examiner, held its second political forum Sept. 19 at the African American Museum in Fair Park with several candidates seeking the office of judges in the Dallas County court of law.
The forum began with candidates vying for the 162nd Judicial District – once occupied by the late Judge Phyllis Lister Brown. Candidates in the running were Judge Maricela Moore and Gregory Gorman.
"There is a great need for legal representation in the Spanish community," Moore said. "I was very fortunate to represent a number of individuals for various commercial matters, pro bono cases using my Spanish as an asset. Pro bono takes a lot of not only in legal representation but also pro bono for law students, and we raised millions of dollars for law students, and that is how I also can give.
"In terms of private practice, I worked at Baker McKenzie, an international law firm, and started my own private practice."
Both candidates discussed their qualifications for the seat.
Gorman: I have three degrees and more degrees than a thermometer, I have three degrees from Texas A&M, I have a law degree from SMU and I have practiced in Dallas for 20 years. I spent a year after graduating from SMU in the court of appeals, in [the] Dallas Court of Appeals. I'm a believer, I'm a Christian and I have a son at the Naval Academy and a daughter at Bishop Dunne who is a 2016 presidential scholar, and I take a lot of pride in what I have done with them.
Moore: My diversity and legal experience is the reason I am most qualified to lead this position, what I mean is that judges who are efficient and fair minded every day are able truly judges who stood in the shoes of those who have come before them. I know what it is like to stand before a client who has a very limited budget but has true claims in order to get justice. It is not just who or what – you read the material, understand the material but not just read, but really understand how that applies and I will be able to do that because I have represented individuals. I have represented companies, I have presented all parties in all commercial level and I mediate cases, the current judges look to me to settle their cases because they know that I understand the law.
The second portion of the forum featured candidates for the 195th Judicial District with Hector Garza and Mike Lee.
Lee was not present at the forum. Garza began by introducing himself.
"On Aug. 13, I was chosen from the executive committee as precinct chair to take over 195th with Judge Tinsley retiring," Garza began. "I was born and raised here in Dallas in the Oak Cliff area, I grew up speaking Spanish and learned and went to DISD Schools. I went to UT Arlington and worked my way and graduated from SMU School of Law. I have criminal defense experience and prosecution experience and I believe in this position I can make such a difference on the bench. I have tried a bunch of different cases and about 100 trials. I represented people in all cases, and I have made a difference for victims and defendants defending their rights and making sure that they were treated fairly."