Monday Night Politics: Forum focuses on the Dallas County court of law
DIANE XAVIER
 | 10/31/2016, 5:45 p.m.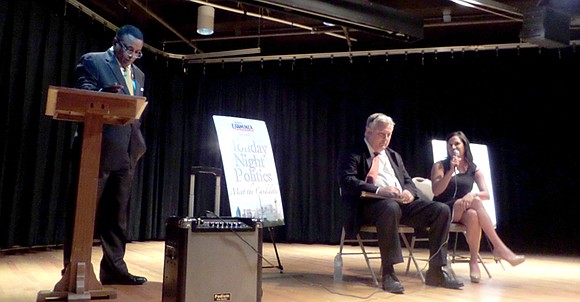 Q: For the role you are seeking, what do you believe is the most challenging, and are you prepared for that?
Garza: I believe that I have years of experiencing working at the DA's office, I worked my way through all courts and the main issue is the number of people placed on probation and their rehabilitation needs, and as judge, I'm going to take it upon myself that those individuals, their needs are addressed. Communication is the key and communicating with all parties involved, the prosecutors and defense attorneys is important.
Q: What is your area of expertise?
Garza: I am not on the bench yet, but what I have done throughout my career is work with the youth. I was a gang unit prosecutor for two and a half years. I would go to a lot of our surrounding schools in DISD Schools and go tell them about the dangers of drugs and gangs and all that and how important education was. My area of concentration would be our young offenders.
Q: When was the last time you were out in the community doing community service?
Garza: As a law student, I was president of the Hispanic Law Student Association, and as a prosecutor, I would go out and read to kids, teach them about the dangers of gangs and drugs and feeding the homeless.
Q: Give us a brief summary about your judicial philosophy.
Garza: I think a judge needs to be fair, be open minded and ensure that the community is kept safe, and also I have a reputation of being fair and keeping an open mind. I have tried misdemeanor cases all the way to capital murder.
The forum concluded with candidates for the 254th District Court with Judge Susan Rankin and opponent Darlene Ewing. Ewing, who had been hospitalized, was not present but had a representative, Sandra Jackson, speak briefly from the floor.
Jackson said she has known Ewing for over 30 years and said Ewing is a great candidate for this position.
"Darlene Ewing has been a star in her ability to manage her practice," Jackson said. "She is a very good lawyer and she's got a very excellent skill set. She was a former chairman of the Democratic Party for over 10 years."
Rankin then introduced herself to the audience.
"I love my job and I didn't ever think I would be a judge ever in my lifetime," she stated. "I have good bar poll ratings, and to me a good judge regardless of party, as a judge you need to know do I go to work on time, do I respect the folks who are in my court, do I know the law, do I apply it fairly and I treat everybody the same. That is what I do. The difference between me and Darlene is that I am a single mother with an 18 year old. I have been on the bench and did a great job and I am not a bragging type. I have proven that I can run a bench efficiently and treat everyone with respect."
Q: What is your philosophy on family cases and therapy?
Rankin: If I can prevent a divorce from happening through therapy, then I will order it, but I wouldn't be doing my job if I didn't allow a divorce to happen if it needs to happen. Our big job, though, is getting all the evidence we can, and when we have attorneys or attorneys who are not as talented as they should be, because family violence and rehab from drugs and alcohol and all things, we have to listen to the evidence and make sure we keep children and parents safe.
Q: What actives are you involved in?
Rankin: I have been feeding the homeless on Sundays at the Bridge and also consider taking care of my daughter a volunteer opportunity as well.
Q: What is your judicial philosophy?
Rankin: I try to remember to treat everyone with respect. We have more clients that don't have lawyers, and sometimes I use public defenders a lot when it comes to children.
This is the last scheduled forum for the November election.