Rawlings holds conference to dispel myths about Southern Dallas
DENISHA McKNIGHT | 10/31/2016, 5:25 p.m.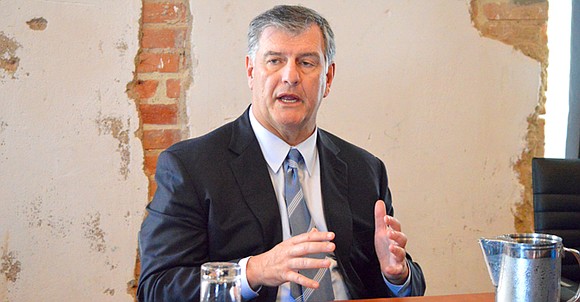 The Dallas Examiner
Mayor Mike Rawlings called a one-on-one meeting with media representatives and urban specialists Sept. 8 to offer what was billed as an open dialogue about GrowSouth, the Trinity River Project and the future of Fair Park.
However, just four months after his GrowSouth update and one month after The Dallas Examiner reported on the community response, Rawlings used most of the time to elaborate on his GrowSouth initiative. He said that its mission is to increase value and awareness of Southern Dallas, ranging from south of the Trinity River to south of I-30.
"The city of Dallas' value is at $100 billion," he said. "I want to increase Southern Dallas' value by that much."
Although certain parts of the Southern Sector have seen growth, other portions, such as South Dallas, Fair Park, East Oak Cliff, Lancaster-Kiest and Pleasant Grove, have not fared as well.
The mayor said he wants to fix these problems and achieve four goals with the GrowSouth, Trinity Parkway and Fair Park projects: put Southern Dallas on everyone's radar screen, bring investments into Southern Dallas, improve transportation and improve Fair Park.
"This is an awareness campaign," Rawlings said.
He aims to make the Southern Sector more noticeable by conducting "culture cleans" and organizing more neighborhood associations in each community.
"We have to work at this in a block-by-block manner," he said. "We've got to have more neighborhood organizations. Another thing that works is what we call a culture clean, which means making sure we look good."
In Rawlings' 10-point plan, a culture clean is an action used to attract more people, create better homes and create more investments in the area.
"Southern Dallas is an investment opportunity, not a charity case," he said. "Too often, it was seen as a place that capital didn't want to invest in, so our shopping centers would deteriorate, we wouldn't have grocery stores, and we would not have things that are necessary. We want grocery stores, but they [investors] want to go where everything is clean."
In efforts to clean up Southern Dallas's environment, more than 1,100 old homes have been demolished, and 250,000 home options have been created to attract more people to the area, Rawlings said. GrowSouth spawned a single family housing initiative that will create 1,500 new homes in Southern Dallas priced at $150,000-$500,000 in the next four years for single-family households.
During the meeting, Rawlings also discussed the many myths regarding Southern Dallas and its environment, such as the high crime rate in the area, lack of investments and businesses, and the schools being academically unacceptable.
Rawlings said the crime rate in Southern Dallas isn't as high as Northern Dallas' crime rate, but there are pockets of crime and poverty that have to be dealt with. He also said businesses and investments are coming to certain areas, but investors are following past information about Southern Dallas that doesn't reflect what it is now.
The mayor went on to debunk accusations regarding schools in the Southern Sector, stating that there are good public schools and charter schools in the area that don't get the recognition they deserve.
"If I can change one thing, it would be to have great schools," Rawlings said. "Yes, there are some underperforming schools, but there are some good schools as well."
Before the meeting closed, attendees wondered whether GrowSouth can help change the narrative of Southern Dallas and advertise a better image of the area for residents and visitors.
Rawlings said he wants to create more neighborhood associations in the Southern Sector and use them as the "centers" of the community to help get the word out to local residents about GrowSouth efforts and become a streamline for residents to voice concerns regarding GrowSouth and southern Dallas' conditions.
"How we tell the rest of the world and ourselves the story of Southern Dallas is critical," he said. "I need people in the media and people in the community to help spread the word about Southern Dallas."