Bringing home the Gold: USA wins Olympics medal race with ease
TIM REYNOLDS | 9/6/2016, 12:29 p.m.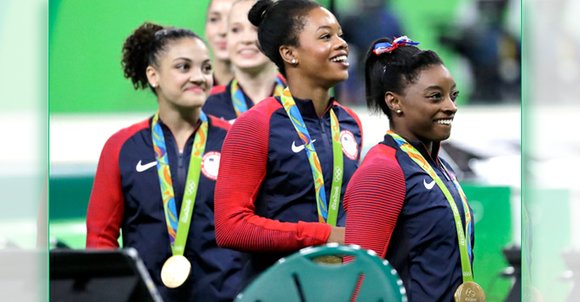 RIO DE JANEIRO (AP) – The U.S. Olympic Team made itself right at home in Rio.
The British, they had a games to savor as well. The host Brazilians got soccer gold that they craved, the Russians struggled on the heels of the exposure of a state-sponsored doping program, and the Chinese finished well below expectations.
So went the medal race at the Rio de Janeiro Olympics, where the Americans – with women leading the way – dominated both the gold and overall totals. The U.S. will finish with 46 gold medals after the men's basketball team earned a gold – 121 medals overall, its 51-total-medal margin over second-place China the largest in a non-boycotted Olympics in nearly a century.
"This experience has been the dream of a lifetime for me," said U.S. gymnast and closing ceremony flagbearer Simone Biles, who won five medals, four of them gold, in her first Olympics.
Gymnasts Gabrielle Douglas, Lauren Hernandez, Madison Kocian and Aly Raisman, also representing the U.S. took home a gold each, 13 medals in all for the team.
For the fourth consecutive games, U.S. swimmer Michael Phelps left with more medals than anyone else. He won six in Rio, while Biles and U.S. swimmer Katie Ledecky each won five to lead to lead a big haul from American women.
U.S. women left Rio with 27 golds – by far the most among any team of female Olympians at these games – and 61 medals total. U.S. track star Allyson Felix, now a six-time gold medalist and a winner of nine medals in all, was particularly delighted to learn that women are bringing more medals home to American than the men.
"Got 'em," Felix said, smiling.
United States' Claressa Maria Shields won a gold medal for the women's middleweight 75-kg boxing. Natasha Hastings, Phyllis Francis, Allyson Felix and Courtney Okolo, representing the U.S. during the women's 4x400-meter relay final, also earned a gold medal.
By now, the Americans winning the medal race is almost commonplace. But the significance in Rio were the sheer amounts of hardware.
The previous record for U.S. medals at a fully attended Olympics was 110, set at Beijing eight years ago. And the margin between first and second in the overall medals race this year tops all others (the boycotted games of 1980 and 1984 excluded) since the Americans won 67 more medals than Italy did at the 1932 Los Angeles Games.
"We weren't sure we were going to have that kind of success coming in," said USOC CEO Scott Blackmun, noting the track and swimming teams had plenty of first-time Olympians.
But Blackmun was thrilled by the results, and he wasn't the only one leaving Rio happy.
Even with far fewer athletes competing in Rio than it had in London four years ago – and no home-field advantage this time, either – Britain got more medals than ever in the modern games. The British won 67 medals in Rio, 27 of them gold.
"The atmosphere at the GB house has been amazing in the village," said Mo Farah, who won gold for Britain in the 5,000- and 10,000-meter races to match the feat he pulled off at London in 2012. "Winning medals and just one after the other. Gold, silver, bronze. The atmosphere has been brilliant. To be able to go even further than London, I think as a nation we should be proud."