Kaepernick stance for justice gets mixed reactions
JANIE McCAULEY | 9/6/2016, 12:25 p.m.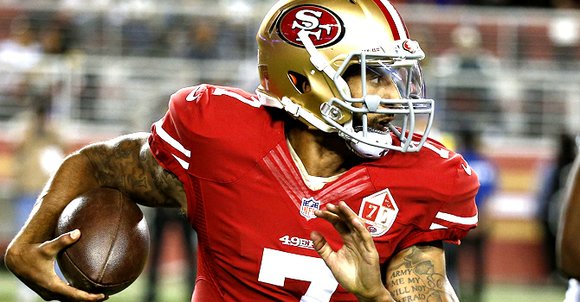 Kaepernick, whose hair had been in cornrows during training camp, sat on the bench during Friday's national anthem at Levi's Stadium, a decision he told NFL Media is based on the United States oppressing African Americans and other minorities.
He explained his viewpoints to teammates in the morning, some agreeing with his message but not necessarily his method. Some said they know he has offended his countrymen, others didn't even know what he had done.
"Every guy on this team is entitled to their opinion. We're all grown men," linebacker NaVorro Bowman said.
"I agree with what he did, but not in the way he did it," wideout Torrey Smith said. "That's not for me. He has that right. Soldiers have died for his right to do exactly what he did. ... I know he's taken a lot of heat for it. He understands that when you do something like that it does offend a lot of people."
Both Bowman and Smith are African American.
After swirling trade talks all offseason following Kaepernick's three surgeries and sub-par 2015 season, he has done everything so far but play good football.
Coach Chip Kelly said Saturday he still hasn't decided on his starting quarterback in a competition between Kaepernick and Blaine Gabbert, who took over the job from Kaepernick November and has vowed to be the No. 1 again. Kelly wasn't scheduled to address the media Sunday, but said a day earlier he planned to talk about Kaepernick's choice with the team.
Kaepernick also didn't stand for the anthem before the preseason game Aug. 20 against Denver, Kelly said.
"We recognize his right to do that. So, it's not my right to tell him not to do something. That's his right as a citizen," Kelly said. "We recognize his right as an individual to choose to participate or not participate in the national anthem."
Giants wide receiver Victor Cruz said after his team's exhibition victory against the Jets Saturday night that the American flag deserves respect – no matter the circumstances in the U.S. or beyond.
"The flag is the flag," Cruz said. "Regardless of how you feel about things that are going on in America today, and the things that are going on across the world with gun violence and things of that nature, you've got to respect the flag, and you've got to stand up with your teammates. It's bigger than just you, in my opinion. I think you go up there, you're with a team, and you go and you know you pledge your allegiance to the flag and sing the national anthem with your team, and then you go about your business, whatever your beliefs are.
"Colin is his own man, he decided to sit down and that is his prerogative, but on a personal standpoint, I think you have to stand up there with your team and understand and it's this game and what's going on around this country is bigger than just you."
Buffalo Bills coach Rex Ryan said Sunday he believes players and coaches should stand for the anthem to show respect and give thanks to members of the armed forces.
"You've got to look at the gifts that we have, the opportunity that we have to play a great game is through the men and women that serve our country," Ryan said before practice Sunday. "And I think that's an opportunity right there just to show respect."
Now, Kaepernick is prepared for whatever comes next.
"I think there's a lot of consequences that come along with this. There's a lot of people that don't want to have this conversation," he said. "They're scared they might lose their job. Or they might not get the endorsements. They might not to be treated the same way. Those are things I'm prepared to handle. ...
"At this point, I've been blessed to be able to get this far and have the privilege of being able to be in the NFL, making the kind of money I make and enjoy luxuries like that. I can't look in the mirror and see people dying on the street that should have the same opportunities that I've had."
John Wawrow/Associated Press contributed to this report.