Together We Ball basketball event brings communities together
DIANE XAVIER
 | 9/9/2016, 8:05 p.m.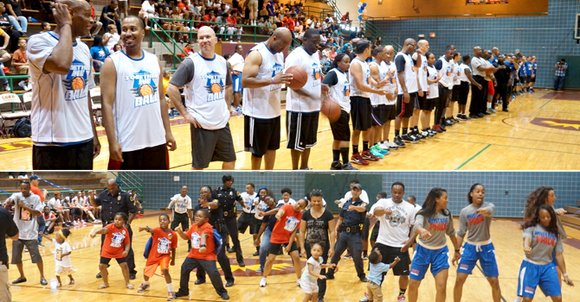 The Dallas Examiner
The Dallas community came together again for the purpose of healing and understanding at the second annual Together We Ball basketball game and community day at P.C. Cobb Field House, Aug. 28. Established though Project Unity by founder Pastor Ritchie Butler of St. Paul United Methodist Church, the goal of the free event was to foster community engagement to help strengthen relationships between police officers and the community.
"We want to use the significance of what happened in Ferguson, Baltimore and now in Dallas to underscore the need and opportunity to move toward healing and collectively build bridges between communities and law enforcement at home and across the country," Butler said in a statement to the press. "By spending an afternoon building relationships, educating all ages and playing and watching an entertaining game of basketball, we can continue to expect positive results and cool heads when tragedy knocks on our door."
Thousands of people, including city officials and the SMU Lady Mustangs basketball team, attended to show their support for the initiative. The event featured a basketball game between pastors and police officers, who – rather than having a faith versus force face-off – chose to combine forces and choose teams. They played blue shirts against the white shirts, and the white team won.
There was also an exhibition game between Madison High School and Bishop Dunne High School.
Highlighting the evening was a free throw competition between Dr. Michael Hinojosa, Dallas ISD superintendent; Dallas County Judge Clay Jenkins; Hiawatha Williams, CEO and founder of Williams Chicken; Pastor Jeff Warren of Park Cities Baptist Church; and Dallas ISD Trustee Lew Blackburn; along with other community leaders. Each player had three tries. Jenkins came close all three times. Hoping luck was on his side; Blackburn had the Mustangs on each side of the free-throw line touch the ball before each throw – but no luck. The clear winner was Warren, who scored on his final throw.
Activities included an opportunity for the youth to dance with police officers to Watch Me (Whip/Nae Nae), as well as face painting, giveaways and family-friendly entertainment.
"This is an exciting day for us," said spokeswoman Toska Medlock. "Together We Ball is an initiative of the community and St. Paul United Methodist Church and together we have pastors, community leaders with police officers to show a day of strengthening our relationships with the community and police."
Reflecting on the moments of unrests in Ferguson, Chicago and Baltimore, Medlock stated that if the city worked toward strengthening community relationships, if something happened in Dallas, the community wouldn't have to have the same experiences.
"We wouldn't be strained – we would know how to come together and have relationships and talk to one another and I think we do," she expressed. "On July 7, when we had the unfortunate incident that happened here and instead of taking to the streets against the police, we came together and began to heal. I think that is important because of all the efforts to strengthen the police."