Veterans Affairs restates policy to ban Confederate flags
CINDY GEORGE | 9/9/2016, 8:10 p.m.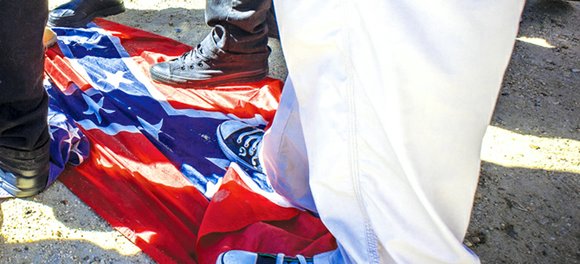 HOUSTON (AP) – The U.S. Department of Veterans Affairs has restated a policy that bans the raising of Confederate flags on permanent poles in federal cemeteries, affecting dozens of burial grounds across the nation – especially in the Deep South – and further contributing to the slow death of the 19th century symbols in modern American life.
The move was revealed last month in a letter from a VA undersecretary in response to 80 Democratic members of Congress, including U.S. Rep. Sheila Jackson Lee of Houston, who wanted to stop large-scale displays of Confederate flags in national cemeteries.
Civil War history also has been at the center of a controversy prompted by Houston Independent School District trustees voting this year to rename eight schools that had monikers tied to the Confederacy.
University of Houston history professor Gerald Horne said these retreats from Confederate symbols reflect greater public assertion by Black Americans in an increasingly diverse country where people are more unwilling to accept representations of oppression.
"The so-called Confederate States of America rebelled against the United States government in no small measure to preserve the enslavement of Africans," he said. "Fortunately, they lost. They committed treason."
On Wednesday, the Sons of Confederate Veterans' national Commander-In-Chief Thos. V. Strain Jr. said the cemetery policy and Houston's school rebrandings demonstrate that "the rewriting of history is running amok." He said Veterans Affairs has energized his allies to take greater steps to preserve their heritage.
The VA still permits Confederate flags on individual grave sites and allows families to choose symbols displayed during committal services.
In a statement issued to the Chronicle Wednesday, the agency described its emphasis on the policy as clarifying ill-defined and often-misinterpreted guidelines of the National Cemetery Administration.
"Flying a Confederate flag from a permanently fixed flagpole at a VA national cemetery has never been approved, and is not allowed," the statement said, adding that restating the rules "will provide additional guidance to sponsors on flag sizes and placement on individual grave sites and mass burial sites."
In an Aug. 12 letter to U.S. Rep. Jared Huffman of California, lead author of the missive co-signed by dozens of his congressional colleagues, VA interim Undersecretary for Memorial Affairs Ronald E. Walters said the agency reviewed its policy "in light of evolving sensitivities regarding the display of the Confederate flag."
The cemetery administration will permit the temporary display of Confederate flags during approved ceremonies and on the grave sites of those who served in the Confederate armed forces – but only on Memorial Day and Confederate Memorial Day in states that recognize that holiday, Walters wrote.
Veterans Affairs operates 135 national cemeteries along with 33 soldiers' lots and monuments sites in 40 states and Puerto Rico. National cemeteries are the final resting places of more than 4 million Americans, including veterans of every war and conflict.
The VA policy never had much effect at the Houston National Cemetery. Founded in 1965, it is one of the newer government burial grounds with little connection to pre-Reconstruction history and has no Confederate veterans among the more than 91,000 decedents interred, director Mat Williams said Wednesday.