International fashion show features African trends, benefits children in Africa
MIKE MCGEE | 9/19/2016, 10:06 a.m.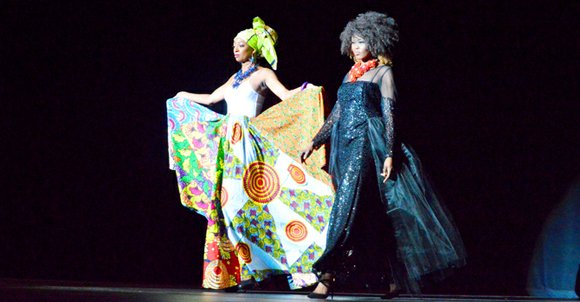 The Dallas Examiner
Designers from around the globe unveiled their Fall 2016 Fusion Collections for men and women during the Dallas International Fashion Show at the Music Hall at Fair Park on Sept. 4. The event, a collaboration between the city, Trendy Africa magazine and Masije Oil & Integrated Services, not only promoted international ethnic creativity, but also served a humanitarian purpose.
"We are extremely excited to be a partner in bringing the 2016 Dallas International Fashion Show to the public, and we are thrilled to be launching it in conjunction with Timalechi Nursery School of Malawi, East Africa, in their efforts to bring clean indoor running water to the facility for the children in that community," Regina Hill Onyeibe, African liaison for the city of Dallas, said in a prepared statement.
The theme of Fashion Culture Diversity was the foundation of the show, an event that was a feast for both eyes and ears. A bare-chested color guard bore flags representing the multiple nations the designers hailed from. Meanwhile, the Mandinka'13 company of drummers and dancers opened the show by way of a performance filled with motion and hues that grounded the concept of a multicultural celebration rooted in African traditions.
"I see some things that are blowing my mind, I'm serious," said Lynne Haze, KRNB personality and mistress of ceremonies for the show, about some of the designs she had glimpsed backstage.
"You'll be blown away with what we have going on up here tonight," added host Yaz Ibekwe.
Runway models took to the stage in garments as varied as understated earth tones accented with polished copper accessories to sequined fabrics in bright pinks and yellows and blues; at one point, a model trod the boards, daringly topless and barefoot, in a black full skirt that the wearer could expand by hand, like a peacock opening its plumes.
The designers or fashion houses that participated in the show included Tony Wu, from Ghana; Marta Ruiz, from Colombia; Konjo Collection, from the United States; Takai, from Nigeria; Agnes Kuthii of the FDE Collection, from Kenya; Dream Event and Weddings, from South Asia; Jotees, from Nigeria; Ruby Bandar, with the Silk Threads Collection, from India; Nick Rose Fashion, from Nigeria; Sandra B, from Ghana; Blokes-N-Divas, from Nigeria; and Tekay Designs, from Liberia.
The variety of styles on display and the nations represented bolstered the larger ideas of unity in creativity and the inventiveness found in diversity.
"Folks, the other day I was reading about culture and history, and it's interesting how we take a few things for granted. It could be anything from clothing, food, business, lifestyle, what have you," said youth mentor Robert Muruli as he spoke on the concept of "Where Fashion Meets Culture."
"Something interesting that I found out, is that America's been influenced by indigenous and immigrant culture," he said. Muruli, whose parents are both from Kenya, discussed the multicultural influences that have touched common mainstays in the U.S., such as pizza and denim jeans.
"America is a country whereby we live with a lot of options and some of these options we're seeing either invented, or brought here, by an immigrant population. So when we see style, when we see clothes, who knows?" Muruli pondered as he considered where one influence or another might have originated. "When we see a way of dance, when we see food, who knows?
"Sometimes, what's looked down on today will be something that we enjoy, maybe even cherish."