Iverson, Shaq headline emotional Hall of Fame ceremony
KYLE HIGHTOWER | 9/19/2016, 10:10 a.m.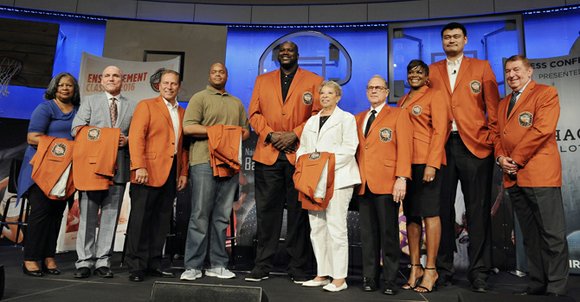 "What a ride it's been," she said.
The 7-foot-6 Yao's arrival from China to the NBA in 2002 instantly helped bring the game to a broader international audience.
He was Friday's first inductee; an honor that he joked should have gone to Iverson.
"You know why? Because I need more practice than him," Yao said to applause from the crowd and a laugh from Iverson.
Yao also thanked his early mentors in China, former NBA Commissioner David Stern for his vision in wanting Yao to play in the league, as well his first teammates on the Houston Rockets. He also singled his former NBA coaches, including Rudy Tomjonavich and Jeff Van Gundy.
"I will always consider you my family," Yao said. "I am Texan and Houston Rocket for life."
Izzo has become the face of the blue-collar Michigan State team while leading it to seven Final Fours and the NCAA championship in 2000.
He thanked his parents, Carl and Dorothy, for being his first mentors. His 90-year-old mother was in attendance, but his father passed away last September.
Izzo briefly got choked up as he spoke of his father, who he said instilled in him a work ethic that remains with him today.
"The seven Final Fours and championship are just frosting on the cake," Izzo said.
Reinsdorf, the longtime Bulls owner, chronicled what led him to purchase the Bulls in 1984. It was a move he said legendary New York Yankees coach George Steinbrenner panned, telling him he'd never make any money.
He enjoyed proving him wrong.
"It's been a great life," he said. "I know it's the fourth quarter, but I'm hoping for overtime."
Like his father, Shaq too has a wish.
"One day when some father quizzes his sons on the greats of the game, I hope Shaquille O'Neal will be the answer," he said.