University of Texas honors first Black students
RALPH K.M. HAURWITZ | 9/19/2016, 9:43 a.m.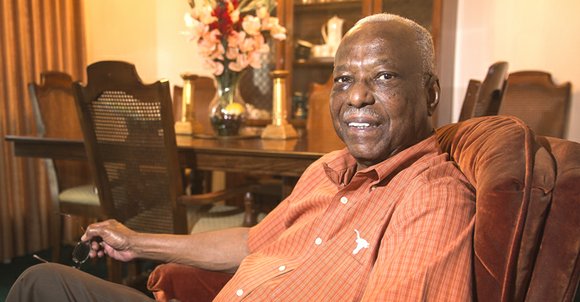 Austin American-Statesman
AUSTIN (AP) – When Nathaniel Bradford enrolled at the University of Texas in 1963, he couldn't join the band. Or a fraternity. Or play on the football team.
The reason: He's Black.
The campus was slow to integrate, waiting until 1956 to enroll African American undergraduates, even though the U.S. Supreme Court had ordered a Black man admitted to UT's School of Law in 1950.
And yet Bradford's experiences as a Black face amid a sea of White ones were generally positive, even though one White student wouldn't sit next to him on the first day of class. Having grown up in Austin, he had played on the campus as a child, catching frogs in Waller Creek, and that gave him a certain comfort level with the place.
"I've always loved the university," said Bradford, 74, who is retired after careers at IBM and the Texas Workforce Commission. "Could it have done more? Yeah, well, you could say that about any Southern White institution."
This week, UT is honoring alumni who were among the first waves of Blacks to enroll, with a special focus on those who started their studies 60 years ago, in the fall of 1956.
The events and activities were set to begin Thursday evening when members of a group called the Precursors, made up of Blacks who enrolled at least 40 years ago, planned to share their stories with students and alumni at the Etter-Harbin Alumni Center on campus.
UT's first Black undergraduates will be honored at 3 p.m. Friday at a public program at the LBJ Auditorium on Red River Street.
Other events will include a reception hosted by UT President Gregory L. Fenves, a "legacy celebration dinner" at the Crowne Plaza Austin Hotel, tailgating at the Martin Luther King Jr. statue on campus and special seating at Saturday's football game between the Longhorns and UT-El Paso. Earl Campbell, UT's first Heisman Trophy winner, is serving as honorary chairman for the series of activities.
In short, UT is pulling out all the stops to welcome its first Black students, in contrast with the cold shoulder many of those students received when they first set foot on campus. Perhaps 18 of the nearly 100 Black students who matriculated in 1956 are expected to participate, said Leslie Blair, a UT spokeswoman.
For Leon Holland, 78, a retired Army colonel who was part of that class, life at UT was decidedly uncomfortable.
"Ninety percent of it was unwelcoming. Ten percent was a smattering of humanity recognizing us as human beings," Holland said.
His wife, Peggy Drake Holland, who enrolled in 1958, had more trouble with professors than with students.
"I had an instructor once who told us that a major part of our grade would consist of our discussions in class, and he had to call on you to discuss. Well, he never called on me," she said during a panel discussion involving members of the Precursors.
Leon Holland has vivid memories of a football game he attended as a 17-year-old freshman. UT was playing the University of Southern California, whose future NFL running back, Cornelius Roberts, a Black man, rushed for 251 yards. UT fans chanted racial slurs through much of the game, Holland said.