Health care in U.S. prisons
GLENN ELLIS | 4/3/2017, 10:59 a.m.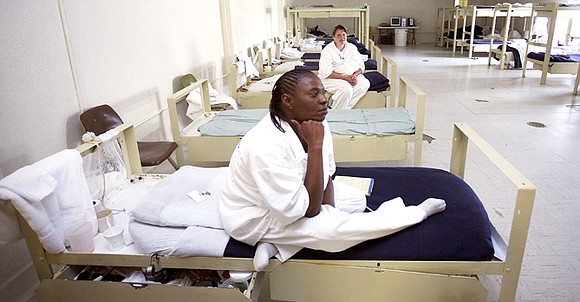 Correctional facilities must provide health services to people who are incarcerated, but that doesn't mean the care is free of charge. In most states, inmates may be on the hook for copayments ranging from a few dollars to as much as $100 for medical care, a recent study finds. At least 35 states authorize copayments and other fees for medical services at state prisons or county jails.
Sick prisoners must make a nominal co-payment for each visit to the jailhouse doctor – taken from an hourly wage that typically runs between 19 cents and 40 cents an hour. Costs above that are covered by the state.
Prisoners do checkups, but probably not as often as most people. Incoming inmates always get a physical, blood test and all, to check for diseases or drugs. After that, the period between checkups varies. In Pennsylvania, for example, men under 40 are supposed to get physicals every three years, complete with rectal exam, vision screening and a risk assessment for chronic diseases. Women get pap and pelvic exams every year. Inmates of both genders older than 60 get a yearly electrocardiogram.
At least that's the theory. In practice, many prison systems are so overcrowded that prisoners have to wait days to see a doctor, even in emergency situations.
If you have a medical question about either yourself or a family member who is in prison, The Center for Prisoner Health and Human Rights suggest the following steps:
If you or your loved one has a doctor on the outside, ask if they can communicate directly to his correctional health care providers. In some cases, correctional facilities allow doctors to visit their patients when they need medical attention.

You should try contacting the health care providers at your/your family member's prison directly to bring a medical problem to their attention.

If you cannot reach the health care providers, the medical director's office will be able to provide the most specific assistance to your health concern.

The Department of Corrections website for your state should have appropriate contact information for the medical director's office.

Several states have legal services organizations that represent or otherwise help prisoners. These organizations will sometimes advocate for individual prisoners who are not receiving proper medical and mental health care and treatment. You should contact these organizations, listed here, to see if they can advise you concerning your case.
Each day, men, women, and children behind bars suffer needlessly from lack of access to adequate medical and mental health care. Chronic illnesses go untreated, emergencies are ignored, and patients with serious mental illness fail to receive necessary care. For some patients, poor medical care turns a minor sentence into a death sentence.
Regardless of their offenses, prisoners are human beings and must be treated as such.
Disclaimer: This column is for informational purposes only. If you have a medical condition or concern, please seek professional care from your doctor or other health professional. Glenn Ellis, is a Health Advocacy Communications Specialist and is available through http://www.glennellis.com.