Johnson files Help Not Jail for Prostitution Bill
ROBYN H. JIMENEZ | 4/3/2017, 12:35 p.m.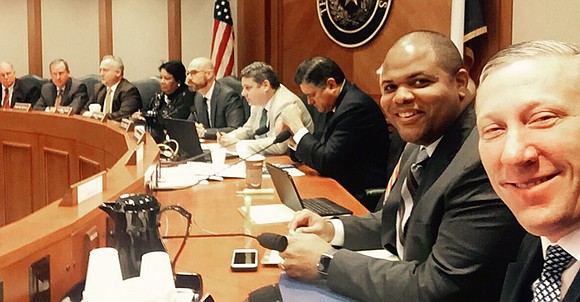 The Dallas Examiner
Texas filed approximately 3,500 prostitution cases during the last fiscal year, 90 percent of which were women. The cost for housing those convicted exceeded the funding issued for prostitution diversion programs. In fact, diversion programs could result in a savings of over $4 million annually, according to the Texas Office of Court Administration.
Moreover, diversion programs generally offer those who have been arrested for prostitution a second chance at life – an opportunity to have a stable life, get an education, find a better job or career, obtain housing and for some, be a better parent.
In an effort to encourage courts to refer individuals to these programs, State Rep. Eric Johnson, D-Dallas, filed Help Not Jail for Prostitution Bill, House Bill 1218 earlier this year. The primary purpose of the bill is to reduce crime by preventing felony convictions for those who need a way out of world of prostitution.
The bill is very similar to House Bill 1363, which he co-authored during the 84th legislative session in 2015. The bill was on its way to becoming a law, but after passing by a 145-0 vote in the House and a 27-4 vote in the Senate, Gov. Greg Abbott suddenly vetoed it.
"Without any warning, without any explanation," Johnson recalled. "He vetoed that bill without ever discussing with me, at any point in the process while it was in the House that he had any issues with it. So, if you think about the process for passing a bill, you file it and it becomes public. He never said, 'Hey, I don't like that bill.' But just 'OK,' because at that point nothing's really happened to it. But then it got heard in committee and he never expressed any concerns about [it], or [had] anyone from his office call and say, 'Hey, I got a problem with that' or 'concerns with that.' Then it gets voted out of the committee favorably and sent to calendars, where it gets set for floor debate. He never had any issues on the floor. He never called and said, 'Hey, you have a bill on the floor that I got a problem with. You need to amend it in this way or that way or I'm going to veto it.' He never said anything. He didn't voice one concern with me or anyone who had anything to do with the bill the entire time it was in the House. It passes out of the House overwhelmingly supported.
"Then it goes over to the Senate. It's the exact same process over there. Since I'm not a senator, a senator has to lay it out in committee. To my knowledge, I'm 99.9 percent certain the governor never raised one concern with the Senate sponsor of the bill … and it passed the Senate overwhelmingly. So, the session ends and the governor's got all these bills to sign, and on the very last day – I feel like – I get a notice that the bill's being vetoed and there's nothing you can do about it at that point."