Monday Night Politics: Forum features Dallas City Council District 4, 8
DENISHA McKNIGHT | 4/3/2017, 12:38 p.m.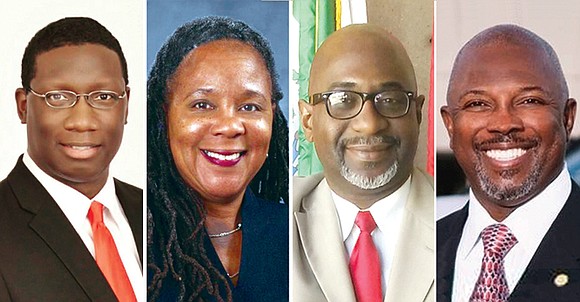 The Dallas Examiner
Monday Night Politics: Meet the Candidates, presented by The Dallas Examiner March 20, was the second forum held featuring several candidates running in the May 6 general election at the African American Museum in Fair Park. Invited guests included candidates for Dallas City Council in Districts 4 and 8.
The forum started with nominees competing for the Dallas City Council position in District 8: incumbent Erik Wilson, Eric Williams, former councilman Tennell Atkins, Moctezuma Seth Gonzalez and Gail Terrell. Gonzalez was not present.
Wilson began by elaborating on his current projects and accomplishments throughout his two-year run.
"I am a councilman who is serving out my first two years and what I started I want to be able to finish," he said. "I started by creating economic development opportunities in District 8. I have created the opportunity for transportation, granting access for I-67 North. Shortly after that, we will have access to Red Bird Mall, off of I-20. We've broken ground on the new Singing Hills Recreation Center and the expansion of Witham Road. We will, also, break ground on a new housing development that will bring in the middle class starting at homes from $150,000 up to $400,000."
Atkins followed and detailed the unfinished business that he would like to complete for the district.
"The things I am trying to come back to is the Singing Hills Recreation Center to finish that project and the DART Rail Line I promised you to get done three years ahead of schedule, so students will be able to go downtown and to the DFW Airport with a transfer," he said. "There is opportunity in District 8 because we have grew the city 2 to 1. We have land banks, Southwest Center Mall, UNT-Dallas, an [upcoming] golf course, and upscale businesses coming in."
Terrell then introduced herself and discussed her past work in District 8.
"When I moved to Dallas, there were no banks around Kiest and Lancaster," she recalled. "Me and a team of others came together and said, 'We deserve to have banks the same as any other area,' and we worked tirelessly. The first bank to come was Nations Bank. I am someone who is a coalition builder. I am an independent candidate, and I would like to have your support to become the next Dallas City Council person."
Williams concluded the introductions addressing the issues surrounding the district and local political figures.
"We have 51 percent of our students failing. We have 3,900 children homeless. We've got 9,000 loose dogs running around eating us up. I'm not going to sit up here and tell you all that everything is ok," he stressed. "These people here are all the same. They in turn endorse one another. I'm not going to sugarcoat the issue. We've got problems here in District 8 and the Southern Sector, and I came home to clean up. I'm not here to play games. I came here to win."
Audience members took advantage of the opportunity to ask the candidates questions about their ability to improve the district.