Monday Night Politics: Forum features Dallas City Council District 4, 8
DENISHA McKNIGHT | 4/3/2017, 12:38 p.m.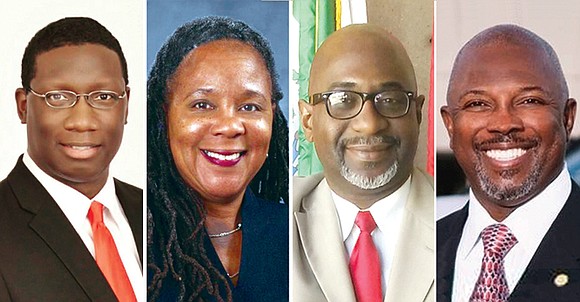 Question: What are your plans to create better education opportunities for all school levels?
Williams: Since returning to Dallas, I have launched my own educational district with my buses. I have buses that I have converted into mobile technology studios that I have purchased with my own money with Dallas ISD. We have to start looking at how we are going to address over African American vendors who help children, because the vendors are being left out as well. The question becomes how am I going to support these colleges. We need to get them involved in engineering. We need STEM development over on the South Side of Dallas.
Terrell: We need to identify corporate partners to work with the school systems so that the students will be able to get that type of support in the schools that they need to have. We need a base, and the base is elementary schools. Without the foundation, it's unfortunate for you to be able to get any further to get the education that you need.
Atkins: You look at schools in the Southern Sector ... How are you going to achieve getting your school uprooted if you don't have corporate sponsorship? It's about you going to the PTA meetings and demanding education. Demand. We're not doing that because our community is divided.
Wilson: I'm already elected, so I'll keep doing what I've been doing. Prior to me coming in, Paul Quinn College, UNT-Dallas, and Cedar Valley College have never worked together. They're working together now on recruiting students as well as what they are doing with the secondary level of high school. Right now, UNT-Dallas has a program for urban education where they're going into J.N. Ervin Elementary school and Kennedy-Curry Middle school to train teachers in an urban environment. I will continue to work with that and serve on STEM programs. We must create the pipeline for our universities.
Q: What are your plans to enhance economic development and job placement in the district?
Terrell: Unfortunately, one of the things that have happened to District 8 is that we've lost a lot of our residents to the suburban area, and that is because we don't have the type of housing to be able to move from to. We have a lot of starter homes, but we need to have more upper and middle income and retail. With having housing come in, we will begin to see more schools and businesses come in. We need to work together in order to build that retail, but we have to be able to have the residents because the schools aren't going to come without the residents.
Wilson: What we will do is continue to create entrepreneurship opportunities. We talk about what's lacking in our community. I've always said if we can't bring in businesses, then we grow our own. What I've done is bringing into Highland Hills the entrepreneurship series. I brought in The Brain and The Deck. The Deck will have three different locations: Southwest Center Mall, Paul Quinn and UNT-Dallas.