Dallas ISD is Cooking Up Change
MIKE McGEE | 4/10/2017, 2:40 a.m.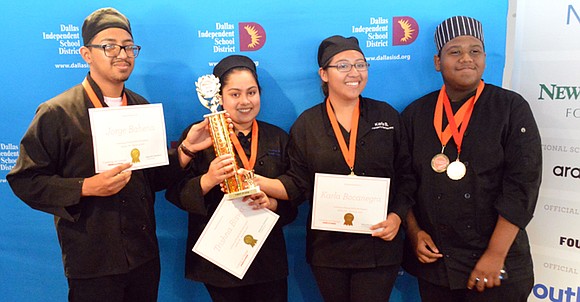 "And it's still there and it's thriving, and all the kids love it," he remarked. Tezano also admitted that being a judge might be different from being a competitor, but they both come with challenges.
"It opened my eyes to see that the pressure isn't always on the students; it's on the judges, too. We get to eat a lot of good food and then, by the time its time to choose the winner, it's hard. You've tasted so many delicious meals and it's hard to pick which one you liked best – but I'm really happy with the outcome and who won."
Harris considered that the difficulty in picking a champion spoke to the quality of the skill within her young chefs and possibilities open to them in the future.
"It feels great to see what the kids have learned from me, and taken it to heart, and put it into practice, she said. "This is our best practices, because I know some students will listen to you but they'll just kind of ease on by; these students took it to heart. They had a winning spirit, they knew that they had a challenge, and they were ready for it – so we spent days and nights on the phone, back and forth, to get things smoothed out, so they really fought through this. It's for them."
For Tezano, it was more than just great food that Team Conrad brought to the contest.
"Also, [it was] their confidence in their presentation. I knew that it's something big in the national competition in D. C., and I knew, with that confidence and their presentation, they'll go really far," the judge said. "It'll take them a long way."
Time, effort and patience helped the trio claim the local prize, their instructor commented. "I'd like to thank everyone that gave us a chance for these kids to see, no matter what school you go to, no matter what grade you're in, you can enter the real world, and still be successful."
The second-place team was Team Three from Moises E. Molina High School, which consisted of students Nereida Arvizu, Jennifer Esparza and Alexis Espinoza. Third place went to Team One – also from Molina High School – featuring Cynthia Alvarado, Samuel Infante and Eryn Sherwood. Chef Matt Denman is the culinary arts instructor for the school.
Bryan Adams, Lincoln, Roosevelt, Skyline and Townview High Schools also competed.