Group walks to spread awareness about the high rate of HIV/AIDS in the Black community
DENISHA McKNIGHT | 4/10/2017, 2:45 a.m.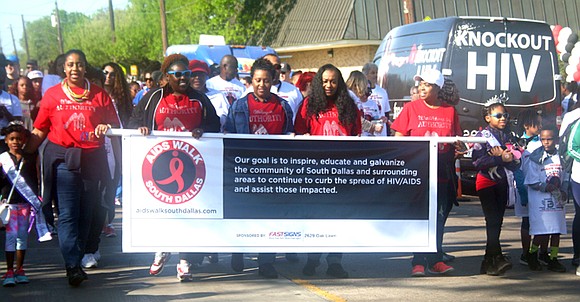 The Dallas Examiner
Dallas County has the highest HIV/AIDS infection rate in the state with a 56 percent increase between 2005-2015, according to a Dallas County Health and Human Services report.
Last year, DCHHS recorded that about 19,000 people in the county live with HIV. Health professionals have shown that it is imperative for the community to become more aware of the increasing diagnosis of HIV – especially in the Black community, which has the highest diagnosis rate and AIDS cases reported by DCHHS. As many as 50 percent of the newly diagnosed cases are African Americans.
To raise this level of consciousness and combat this growing epidemic, AIDS Walk South Dallas Inc. held its seventh annual walk at the Martin Luther King Recreation Center to educate local residents about HIV prevention, March 25.
"This is about awareness and a community coming together to make a change to the Southern Sector of Dallas," said Auntjuan Wiley, president and CEO of AIDS Walk South Dallas Inc. "We cannot continue to do what we do without the support of the community."
The event started as an outcry from the community eight years ago during a local meeting at the MLK Center, according to Wiley. Subsequently, the demand for an AIDS walk-in the heart of the Southern Sector began to grow after the meeting.
"Someone hit me in my inbox and told me that they needed to meet with me over lunch," he recalled. "I didn't know who this man was and he told me that he wanted to produce an AIDS walk-in South Dallas. I've been to many walks, but I never produced a walk. [However], I was wise enough to look at the largest walk, which is in Los Angeles, California, and the smallest walk [in Oklahoma City, Oklahoma], and we were able to produce AIDS Walk South Dallas."
Presently, the event attracts 300 registered walkers to help promote HIV/AIDS prevention through participation in a three-mile walk around South Dallas and donations to the services and programs associated with the organization.
This year, the Walk drew many special guests from around the city, such as Zachary Thompson, director of DCHHS, and Dallas city councilwoman Tiffinni Young. It also honored those who have died due to HIV/AIDS with a memorial quilt.
"A lot of people don't see how HIV/AIDS is still increasing, so this walk raises awareness to where we have to address it, especially when you look at 30 years ago this was considered a White male disease. Now, it's an African American male disease," Thompson said.
With infection rates increasing, the initiative placed a strict emphasis on the progressing percentage of young adults underage 35 living with HIV/AIDS. According to DCHHS, people ages 13 to 24 have the highest rate amongst all age groups for new diagnosis by 36 percent.
"In that age range from 18 to 35, there's always going to be a challenge because they don't see the deficit we did 30 years ago, but they don't understand the impact that it's going to have on them in terms of the stigma that is going to be tied to it," Thompson stated.