Group walks to spread awareness about the high rate of HIV/AIDS in the Black community
DENISHA McKNIGHT | 4/10/2017, 2:45 a.m.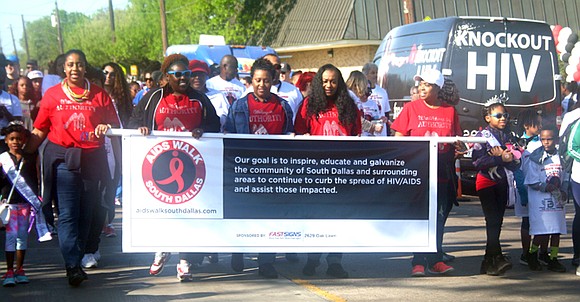 Since the 1980s AIDS epidemic, the disease hasn't received as much attention from the public and appears to materialize in recent studies conducted on the county. In the new technology era, different approaches to serious issues like HIV and STDs aimed toward millennials are taken.
"When you speak to the young people, you speak to them on their level," Wiley explained. "They're not concerned about your degrees or where you've been or what you are doing. They need somebody who understands where they are, loves them where they are, and will educate them from where they are. Help them understand that this is real."
The Walk CEO said the public has to become more aware of the illness and the risk factors associated with it such as the connection between people who live with multiple STDs and HIV/AIDS.
STDs put people at greater risk for HIV than those who have no STDS due to behaviors and symptoms such as sores and broken skin that allow for easier transmission, according to Centers for Disease Control and Prevention.
In order to better protect the community from HIV/AIDS risks, Thompson suggested that people get tested as often as they have sex and to become better acquainted with their partner and their partner's status.
The organization continues to fight until a cure is found for HIV/AIDS by spreading awareness throughout the entire Southern Dallas area one step at a time.
"I want people to understand that HIV is still alive," Wiley said. "People are living, yet people are still dying. Get educated and become more aware and empowered. When you learn, you teach someone else, so the message continues."