Jonita White: Driven by faith, committed to community
MIKE McGEE | 4/10/2017, 2:38 a.m.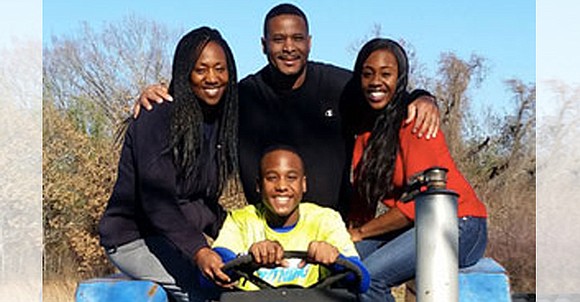 The Dallas Examiner
Christian Brothers Automotive franchise owner Jonita White believes that generating income is how any businessperson gets by, faith is what should drive our larger purpose, and creating a bond with members of the community is the true foundation of business – especially when her perspective is coming from within a field that is traditionally male-dominated.
"I tell my guys that all that time – you know, people are bringing their cars in here to get fixed, that's not the baseline. It's about building a relationship with that person," she said. "Their brakes may go out, they may need brake work. That's not the real issue. They're looking at, 'I've got to get my baby to the hospital for medical appointments. This car needs to be ready.'"
White talked about how, as a woman, she has to find her own niche for a service most often associated with men. She feels that her franchise, located in Frisco, fits perfectly well in serving the needs of her community.
"A lot of my customers are female, and men seem to intimidate women, and being a female owner I can empathize with the women, and I can give them insight as to what's going on with their vehicle," she said.
Her shop employs an innovation called the "Virtual Vehicle" that she described as a show-and-tell device to assist people in better understanding the issues with their cars.
"Women aren't always underneath the car. There are some women do work on cars, but we are not traditionally underneath, but we can visualize and see with Virtual Vehicle what brakes actually do, what the transmission is actually doing, so we can visualize it and see it on the screen," she explained.
Her dedication to her clientele is linked in part to the designs she had on alternative business opportunities after years of experience in other fields.
"In my prior life, I was facility service director at Kaiser Hospital," said the former San Diego resident. She worked at Kaiser for 16 years, where she managed five departments with 400 employees. A 2006 move to Texas with her husband and two children to be closer to family provided White the opportunity to work for Bank of America; during that time, she also became a licensed Realtor.
As her curiosity in franchises grew while the housing and banking industries became more unstable, the opportunity to own and operate a Christian Brothers Automotive shop appealed to her; as a woman of faith, White noted that she could appreciate the deeper motivation that formed the foundation of the company.
"One of the things that I love, is because it is Christian Brothers and we are faith-based, I am able to share the Gospel with my customers that come in here, and I am going to treat each customer honestly and with dignity and respect – and all of my staff will do the same thing," she offered. "Do the right thing every time, and God will bless the right thing that you get done."