Monday Night Politics features candidates for Dallas City Council District 1, 5 and Dallas ISD Board of Trustees District 6
DENISHA McKNIGHT | 4/10/2017, 2:47 a.m.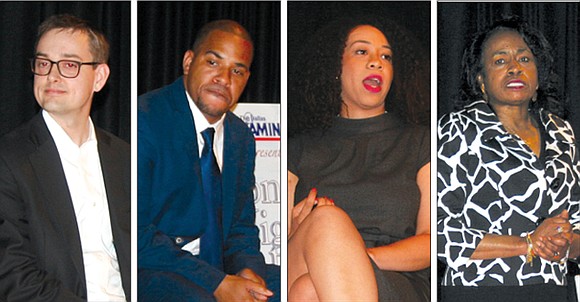 The Dallas Examiner
Monday Night Politics: Meet the Candidates, the third forum presented by The Dallas Examiner featuring several candidates running in the May 6 general election, was held at the African American Museum in Fair Park, March 27. Invited guests speakers were candidates running for Dallas City Council District 1 and District 5, and Dallas Independent School District Board of Trustees District 6.
The forum began with City Council candidates for Place 1: incumbent Scott Griggs and Stephen Winn.
Griggs initiated the discussion with a brief introduction about his commitment to District 1.
"I represent the areas south of I-30, west of I-35, north of Illinois Avenue, and east of Cockrell Hill Road," he said. "I've been in office for six years, and the big thing that keeps me going is the people and being your voice at city hall. Whether it's on the big policy issues like bringing a fair wage to garbage workers, raising the minimum wage that we pay at city hall, or even helping the service request on the weekend if your park needs to be cleaned, I'm there for you on all those things because I believe in our community; I believe in Oak Cliff and Southern Dallas."
Winn followed and detailed his plans for improving the district and rebuilding the community.
"My goals are simple. I would like to make sure that I work with the Dallas Independent School District. I want to collaborate with them and make sure that the kids are getting a fair education," he said. "Secondly, the streets and the sidewalks in our communities are in need of repair, so those are the things that I'm looking to get aggressive with and work toward. Thirdly, I want to also work with community associations to work with the individuals there experiencing difficulties with high increasing rental rates. Lastly, I want to improve the small business growth in our community and make sure that the development is there."
After introductions, audience members asked the candidates a series of questions about the future of the district.
Question: District 1 has been a hotbed for economic development. What is your philosophy for what District 1 should look like in terms of economic development?
Griggs: District 1 needs to look inclusive; It needs to include everyone. We need to maintain the character in North Oak Cliff. The Bishop Arts District is a wonderful example. You can see so many types of business in a small area, and what's great about it is the land is owned by people who live in District 1. The businesses are owned by District 1 residents, and the people who work there are from District 1. That's how we build a community, and that's what I look for – small, innovative projects like that [Bishop Arts].
Winn: One of the reasons that I decided to run is because of economic development. I feel that Wynnewood, which is located on the southern tip of District 1, has been neglected, and I would like to economic growth there. We need to see about getting the small businesses that are already there the support they need to maintain the business. I also want to see new businesses integrated into that area as well. Wynnewood is one of the first open-air malls in the city of Dallas. It has historical value, and I want to build on that.