African American Educators Hall of Fame salutes Black educators
MIKE McGEE | 4/24/2017, 9 a.m.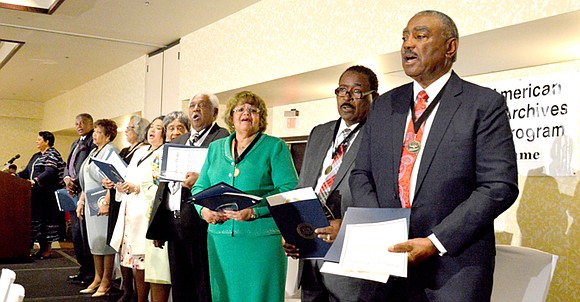 The Dallas Examiner
The experiences of segregated school systems and the contrasting, modern promise of evolving and inclusive teaching for all students intersected at the African American Educators Hall of Fame 2017 induction ceremony held at the Hilton Garden Inn in Duncanville April 8.
The luncheon, established by the African American Education Archives & History Program in 2004, celebrated the careers and accomplishments of current and former educators, administrators and civil rights trailblazers Joseph T. Brew, Dr. Lois Harrison Jones-Fears, Mildred Newton Finch, Michele Anderson Goady, Kathryn Mitchell, Lucious L. Newhouse Jr., Shirley Ison-Newsom, Annie Heads Rainwater and Jimmy V. Scales Sr.
Built upon the philosophy of "Remembering our past / Acknowledging our present / Embracing our future," the event began with a welcome from State Representative Yvonne Davis, District 111, who also acted as mistress of ceremonies. However, it was the words from a student and those of the respected teachers, faculty and game-changers of Dallas County schools through video presentations that vividly conveyed the purpose of the ceremony.
Terrence Dean Jr., sophomore at Booker T. Washington High School for the Performing and Visual Arts, attempted to illustrate the depth of the value that proper education has on children during his address.
"Those of my generation don't understand the luxury of education that others were not so easily granted," he began. "Because during my grandmother's time and during my great-grandmother's time in education, all that you were taught as part of African studies was that the only contribution that your people, or people like you, or people with a similar skin color as you, have only contributed to America is picking cotton. That's it."
He denounced that notion as false and affirmed that there was far more to African American history than the predictable, passed-down narrative.
"And I want to thank the educators that came before me today because they have challenged that. A lot of educators forget their presence," Dean noted. "And a lot of educators think that what they are doing isn't important. Well let me tell you … your job as an educator is not only to teach the curriculum, but it is to shape and mold a young mind, a mind that will soon be the next president, a mind that will soon be the next city council member, a mind that will soon be the next engineer, or the architect or the next scholar. That's your job; to instill within that young mind, despite the color of their skin, the truth, the whole truth and nothing but the truth."
Upon the conclusion of the speech, the inductees were briefly introduced by Dr. Alfred L. Roberts Sr., president of the AAEAHP. Video segments for each honoree played as the surviving guests of honor described high points and experiences in their careers.
Newhouse said that he attained his greatest achievements in Dallas ISD.
"From that point on, life has been a successful moment for me because after 30-some years in the military, what I learned from that situation as an observer, I carried those knowledge activities twelvefold, and worked on every child," he said. "Every child – every child – can be a learned child. Every child can be successful. My goal was to be the best that I could be and train others to be the best that they could be in everything and whatever they will be at."