City of Dallas helps small business reach next level
MIKE McGEE | 4/27/2017, 8:44 a.m.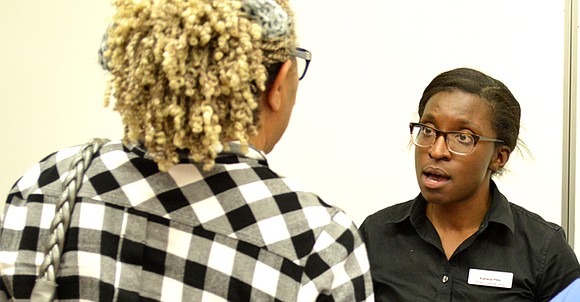 The Dallas Examiner
"We're a family of givers," said BT, a cancer survivor who requested that her full name not be used. An attendee of the city's Small Business Resource Workshop held April 18 at the Eastfield College Pleasant Grove Campus, BT and three of her friends were in the audience with the intent of starting a registered nonprofit.
"What we're looking for is trying to find out how to, I guess, to get things started," she said. "Everything we've done so far, we've used our own capital, and so now we're ready to expand and we're trying to find out, what's our next step?"
BT pointed out that her group has already been providing services to cancer patients whenever possible but wanted to ensure that their efforts remained sustainable when she reaches retirement in a few years.
Many in the crowd were in her shoes, trying to get to that "next step" – whether it involved creating a business, acquiring a loan, applying for certification with the city, or any other multiple aspects to small business ownership.
The workshop created by the Office of Economic Development was similar to many the city is sponsoring as part of the Neighborhood Plus plan.
"They have identified 11 neighborhoods … and they are charged with revitalizing those areas," said Seferinus Okoth, a senior planner in the city's Planning and Urban Design office, during the program.
"One of the things that the community always brings up is they want business," Okoth said about the neighborhood's revitalization plan. "They have very few businesses, so we figured out – 'How can we attracted business to this community?' And the best way was to identify small businesses that are already operating in or around the surrounding communities."
Okoth added that the workshop was developed "… So that we can make connections with the businesses that are in the surrounding areas. So, our goal is that today our small business owners that are here are going to speak to most of the speakers that we have here to make the connecting and do a follow-up meeting with them afterwards."
During the bilingual forum, time was provided for business owners and potential entrepreneurs to meet with nonprofit microlenders as well as representatives of the Dallas Business Resource And Information Network, Dallas Business Development and Procurement Services and other partners.
Microlenders are those who lend money in small amounts to impoverished individuals and groups who are unable to obtain loans from mainstream banks, as defined by Merriam-Webster. One such resource was Accion, represented by senior loan officer Millie Garcia.
"We are a nonprofit organization, and we do loans for small business owners anywhere from $1,000 up to $1 million," she said, indicating that some loans could be processed within 24 to 48 hours. Accion specializes in lines of credit, working capitol, transportation and trucking purchases, and free-of-charge training and other resources.
Rosie Rueda, a loan officer with LiftFund, commented that her company helps businesses that traditional for-profit banks shy away from. She described LiftFund as a safe alternative to payday and title loans.