City of Dallas helps small business reach next level
MIKE McGEE | 4/27/2017, 8:44 a.m.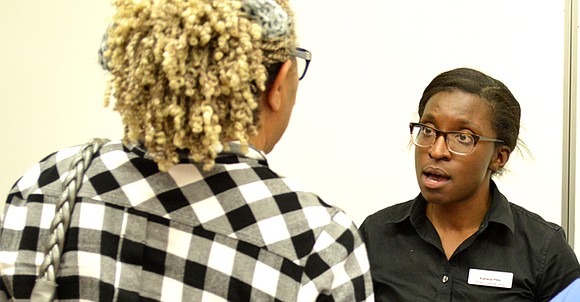 "We have a program, if you get in trouble, where we can refinance you out of those loans," she said.
However, as Rueda described the factors used in granting a loan, she confirmed that lenders will always want to be paid back their loan plus some interest. Getting a loan is contingent on the entrepreneur's ability in being able to pay it back, along with additional factors.
"The next thing we look at is, especially if you're a startup, is what are you investing in your business? If you're a startup company, no lender will finance you 100 percent. So if your project cost to get started is $100,000… the lender will only finance $80,000. You have to have $20,000 either in the bank or receipts to prove that you're vested," she explained. "The reason we do that is, why should we invest in you and give you the loan if you're not willing to invest in yourself?"
Tassjania Lozano, manager at PeopleFund, admitted that her nonprofit was not too different than some of the others, but added, "What's kind of nice about PeopleFund is, if we are not the best program for you, we have a great relationship with LiftFund and with Accion so we send you their way."
Lozano did mention that her organization was especially focused on assisting minorities, women and veterans who operated in low-to-moderate income areas, and helped with loans through the City of Dallas.
Narrowing the scope of specific business needs further, Katrina Pitts of Women in Need of Generous Support discussed her company's emphasis on female entrepreneurship.
"Our focus is on women who want to become small business owners through an educational mentorship program," Pitts said. One such WiNG course is a 50-hour development program. "So if you have a business idea, or you're currently in business, or want to sustain your business, we help you develop your community."
Laura Hurtado, with the city's Development and Procurement Services, informed the audience that it was through her office that business owners could get registered with the city and bid on contracts. Her office also plays a major part in minority contracting.
"For any contract that the city of Dallas has - whether it be construction, staffing, IT, concessions – if it's over $50,000, whoever wins that contract has to share a percentage with minority/women-owned businesses."
At the close of the event, BT spoke with appreciation to the city about the variety of services the workshop united under one roof. "We got a lot of good information. What we'll probably do, we'll take the workshop – the 50 hour classes – to help us with not only our marketing but with our business planning," she said, referring to the WiNG program.
"I also talked to the LiftFund and she said that she's going to be able to give us some information as well," BT said. Additionally, a website for her service organization would be on the way. "I learned a lot, I really did. It was very helpful. I'm glad they had it."