Court finds intentional voter discrimination, Voter education bill still pending
PAUL J. WEBER | 4/27/2017, 8:37 a.m.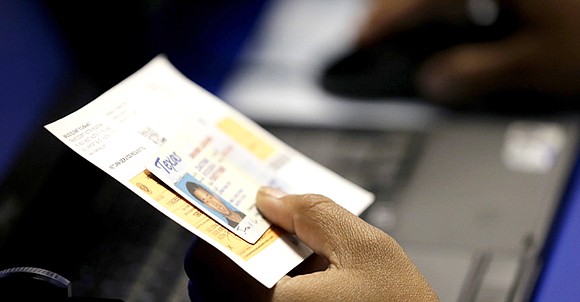 AUSTIN (AP) – A Republican-drawn map setting the boundaries of Texas' statehouse districts violates the U.S. Constitution by intentionally discriminating against minority voters, a federal court found April 20 – the third such ruling against the state's voting laws in roughly a month.
The latest ruling means Texas' strict voter ID law, congressional maps and state legislative maps – all of which were enacted in 2011 – have recently been found in violation of the federal Voting Rights Act.
For Texas, the stockpiling losses carry the risk of a court punishing the state by demanding approval before changing voting laws. The process, known as "preclearance," was formerly required of Texas and other states with a history of racial discrimination before the U.S. Supreme Court in 2013 struck down the heart of the Voting Rights Act. But the court kept in place the chance that states could again fall under federal oversight if intentional discrimination is found.
Minority rights groups and Democrats could press a three-judge panel in San Antonio over that possibility at a court hearing later this month, when they're also expected to demand new state and congressional maps for the 2018 elections.
The latest decision concerns how districts were drawn by Republicans for the state House of Representatives, which the GOP now controls 95-55, in addition to every other branch of state government. In a 2-1 ruling, federal judges again found signs of racial gerrymandering and evidence that Republicans intentionally diluted the growing electoral power of minorities around Dallas, Houston, San Antonio and elsewhere.
"This ruling confirms an unfortunate reality that we have long known to be true about voting practices in Texas," expressed Rep. Eric Johnson in a statement to the press. "This state has continued a disturbing pattern of violating the rights of minority voters and the Legislature must address this issue with urgency. Whether redistricting or voter identification laws, we cannot truly have fair elections in Texas until we end these discriminatory voting practices."
Mark Rylander, a spokesman for Republican Texas Attorney General Ken Paxton said the state would ultimately prevail. The maps were redrawn in 2012 before being ever being used in an election.
"As Fifth Circuit Judge Jerry Smith observed in his dissent, the challenge to the old 2011 maps are not only moot but 'a finding that racial considerations were dominant and controlling defies everything about this record,'" Rylander said.
Paxton and Republicans are now forced to keep defending major voting laws Texas signed by then-Gov. Rick Perry in 2011. Earlier this month, U.S. District Judge Nelva Gonzales Ramos of Corpus Christi again found intentional discrimination in Texas' voter ID law, two years after she likened the ballot-box rules to a "poll tax" meant to suppress minority voters.
The Texas law requires voters to show one of seven forms of identification at the ballot box. That list includes concealed handgun licenses – but not college student IDs – and Texas was forced under court order last year to weaken the law for the November elections.