A tough road ahead: Trump heads into most challenging week
CATHERINE LUCEY and HOPE YEN | 4/27/2017, 8:42 a.m.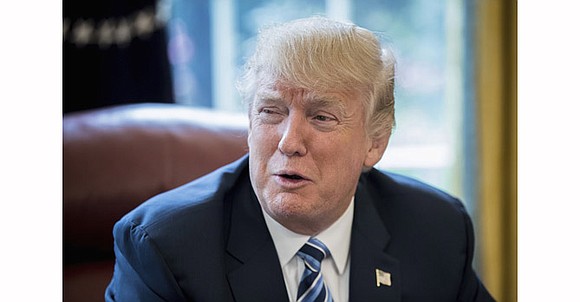 WASHINGTON (AP) – President Donald Trump is heading into one of the most challenging weeks of his presidency, juggling a renewed health care push and a looming budget deadline. It's all complicated by a potential showdown with Democrats over paying for a border wall.
The symbolic 100-day mark for the administration is Saturday. That's the same day government could shut down without a budget deal. Trump has announced a rally in Pennsylvania that day.
Despite Trump's dismissal that the 100-day marker is "artificial," the White House is planning a packed week of activities leading up to Saturday. Trump will sign executive orders on energy and rural policies, meet with the president of Argentina and travel to Atlanta for a National Rifle Association event. Top aides will also fan out around the country to promote the administration.
Aides stressed on Sunday talk shows that funding a wall along the U.S.-Mexican border and a vote on an effort to repeal and replace President Barack Obama's health care law were priorities. But they also suggested a shutdown could be avoided.
"I don't think anyone foresees or expects or would want a shutdown," said budget director Mick Mulvaney on Fox News Sunday.
Trump would like to revive a failed effort by House Republicans to replace the Affordable Care Act. He also hopes to use a $1 trillion catchall spending bill to salvage victories on his promised border wall, a multibillion-dollar down payment on a Pentagon buildup, and perhaps a crackdown on cities that refuse to cooperate with immigration enforcement by federal authorities.
But so far, negotiations have proven difficult, with disputes over the border wall and health law subsidies to help low-income people afford health insurance. House members received little information from leaders on a conference call Saturday.
White House chief of staff Reince Priebus said on NBC's Meet the Press that he believes the spending bill will include "something satisfactory" to reflect Trump's desire to build a wall. The legislation would keep the government running through Sept. 30, the end of the budget year.
"We expect the priorities of the president to be reflected," Priebus said, citing ongoing talks with the House and the Senate. He added that "it'll be enough in the negotiation to move forward either with construction or the planning ... to get going on the border wall and border security."
House Democratic leader Nancy Pelosi of California described a border wall as "immoral" and "expensive" when asked if there was any scenario in which Democrats will agree to money for a wall to avoid a shutdown.
"Democrats do not support the wall," she said, speaking also on NBC. "Republicans on the border states do not support the wall."
"The Republicans have the votes in the House and the Senate and the White House to keep government open. The burden to keep it open is on the Republicans," Pelosi said. She noted that when Trump promised to build a wall during his campaign, he never indicated he would "pass billions of dollars of cost of the wall onto the taxpayer."