CVC music students hit the right notes
Special to The Dallas Examiner | 8/4/2017, 6:26 p.m.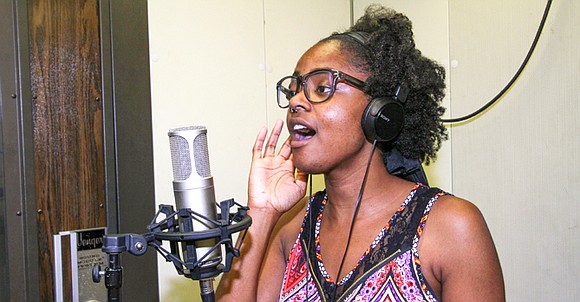 Special to The Dallas Examiner
Michael Robertson and some of his friends – Zantana Zuniga and Johnnathan Melendez included – have recurring weekly appointments as part of their work.
But those appointments aren't in an office, and they don't involve talking about sales, hiring employees or conducting other business. Their get-togethers take place in a large music studio at Cedar Valley College. And they don't just talk. They "jam" to jazz, rock, rhythm and blues, and other genres.
The trio are students in the college's commercial music program, which teaches them about different aspects of the music industry.
"This is not a classical music program," said Dr. Kathryn Brown, commercial music program coordinator at Cedar Valley. "Commercial music is anything from pop to jazz to hip hop, and everything in between. It's most of the music you hear on the radio."
Brown said students can choose from four different tracks in the program, but every track offers facets of each one: recording technology; digital music production and composition; music business and entrepreneurship; and performing musician.
"We get a mix of students, but they all have something in common," said Dr. Mike Bogle, professor of music production and composition at the college. "Every student wants to be in the music industry, performing, recording, producing and composing."
Pursuing a passion
Patti Ruth, a registered nurse by profession, said she has been attending classes in the program since 2000 because she's "addicted to music." The 62-year-old said she already has all the credits she needs for a degree in commercial music, but she has kept taking classes so that she can sing jazz and blues after she retires at the end of this year.
"My passion is music and my profession is nursing, but I will soon retire. Then my passion and profession will be music," Ruth said.
Tiffany Briscoe, who graduated in 2016 but is taking music theory classes now, said she always knew she had talent, but her parents didn't know how to get her involved in her passion.
"I used to walk around the house singing, and my parents heard me," Briscoe said. "My love for singing and performing grew over time."
Briscoe, who sang and danced in Cedar Valley's Family Music Theater production of the classic musical Hairspray this summer, said she plans to work in musical theater and go into voice acting.
Briscoe said she already has performed as a singer at Dallas clubs in Deep Ellum.
"It was nerve-racking to sing on stage at those clubs. I was nervous, but I still wanted to get up there and sing. It went better than I thought," she recalled.
Zuniga, who graduated from Cedar Valley in 2015 and now tutors other students at the college, said he always wanted to pursue music and recording technology, but his parents told him that he wouldn't be able to get a job in that field. He started studying nursing instead.
Zuniga said his father used to play the guitar, and he eventually asked his parents if he could pursue his passion for music; they consented.