Fifty years of African American mayors
MARC H. MORIAL | 8/7/2017, 6:27 a.m.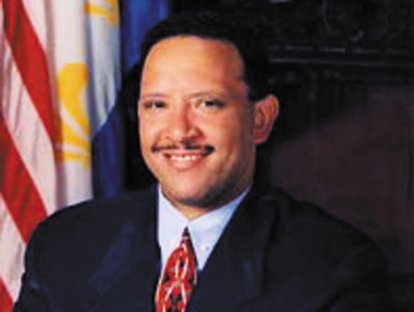 National Urban League
"To be an African American mayor leading a city in the 21st century is not about 'power' but about 'possibilities.' With more than 470 African American mayors leading cities across the United States, the lens of our leadership is shaped from our own personal experiences. Together, we collectively bring a perspective that allows for a spectrum of possibilities." – Houston Mayor Sylvester Turner, The Role and Obligations of African American Mayors in the 21st Century, State of Black America, May 2017
Today, the sight of a Black mayor is unlikely to turn any heads or draw any particular attention. But in 1967 – during the continuing turmoil of the Civil Rights Movement and two years after the passage of major civil rights legislation – a first generation of African Americans would be elected to helm major American cities and this first wave would go on to irrevocably reshape our American political landscape.
Carl Stokes was the first Black mayor of a major U.S. city. Elected on November 7, 1967, Stokes served as 51st mayor of Cleveland, Ohio, from 1967 to 1971. A one-time high school dropout, Stokes would go on to get a degree in law. In a life filled with firsts, Stokes' political career began in 1962, when he was elected to serve in the Ohio House of Representatives, becoming the first Black Democrat elected to the Legislature. He ran for mayor of Cleveland in 1965 and lost. In 1967, he ran again, defeating Seth Taft, the grandson of president William Howard Taft. On the night of his election victory, Stokes, the great-grandson of a slave, shared with his supporters that, "truly never before have I ever known to the extent I know tonight the full meaning of the words, 'God Bless America.'"
But that historic day in 1967 produced the first two Black mayors of cities with populations of over 100,000 people. On the same day, Richard Hatcher was elected the first Black mayor of Gary, Indiana. Hatcher turned down an offer from President Jimmy Carter to serve in the White House, instead choosing to stand at the helm of the city he called home. The youngest of 13 children and the son of a Pullman Company and factory worker, Hatcher's start in politics began with the familiar activism of his time, participating in sit-ins at establishments that would not serve Black customers. He became a city council member in 1963 and then became city council president. In 1967, Hatcher unseated the incumbent, winning the general election with 95 percent of the Black vote. During his swearing in ceremony, Hatcher promised that, "together, we shall beat a way; together we shall turn darkness into light, despair into hope and promise into progress. For God's sake, for Gary's sake, let's get ourselves together."
These pioneers, and the many who would follow in their footsteps – including my own father, Ernest N. "Dutch" Morial, who was elected the first Black mayor of New Orleans in 1977 – came to power during turbulent times in our country. To be an African American mayor, especially during the polarizing struggle of Black Americans and other marginalized groups to be fully incorporated into American society, was an incredible feat. These early pioneers aspired to political office at a time that was not so far removed from lynchings, segregated schools, and anti-miscegenation laws. Every step, every vote and every position attained was marred and marked by transparently racial barriers, and every victory was made all the more sweet by overcoming them.