Maneuver to deny consumers financial satisfaction
CHARLENE CROWELL | 8/7/2017, 6:24 a.m.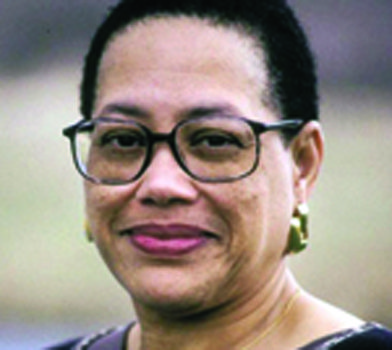 Center for Responsible Lending
The song (I Can't Get No) Satisfaction may have been recorded decades ago first by Otis Redding and later by the Rolling Stones, but its message is still true today. Its lyrics, "I've tried, and I've tried," strike a resonant chord with anyone who ever felt they received less than they deserved.
When it comes to today's range of financial services and products, many consumers don't have satisfaction.
One of the reasons is that consumers are often denied the chance to join forces in court to hold bank and lenders accountable when they seem to have broken the law. Instead, financial contracts frequently contain forced arbitration clauses buried in the fine print. These anti-consumer clauses require that all disputes between consumers and the institution are dealt with in a secretive and often rigged arbitration system.
Among the financial products with high use of arbitration clauses are payday loans. An estimated 99 percent of storefront payday loans in California and Texas include arbitration. Here's how it works:
The financial institution hires the arbitration firm, pays its fee, and in turn, it rules in the company's favor 93 percent of the time and leads to repeat business-to-business dealings. And by the way – more often than not, there is no right to appeal.
On July 10, a long-awaited rule to remedy this dilemma was announced by Richard Cordray, director of the Consumer Financial Protection Bureau. A forceful and vocal coalition of civil rights, organized labor, consumer advocates and others had pushed for the rule to further address economic ills suffered disproportionately by consumers of color.
Earlier CFPB research found that even with limits on class actions, consumers receive – after attorneys' fees – approximately $440 million more per year in these lawsuits than with arbitration. Over the past few years, 34 million more consumers received relief from class action lawsuits.
"Including these clauses in contracts allows companies to sidestep the judicial system, avoid big refunds, and continue to pursue profitable practices that may violate the law and harm large numbers of consumers," Cordray said. "Our research showed that these little-known clauses are bad for consumers. They may not be aware that they have been deceived or discriminated against or even when their contractual rights have been violated."
Civil rights organizations were swift to speak up in support.
"By leveling the playing field between corporations and individuals, this rule is an important step towards addressing the economic inequality that is so closely intertwined with racial injustice in the United States," said Todd Cox, policy director for the NAACP Legal Defense and Educational Fund Inc.
Last August, the organization submitted comments supporting the rule – along with 110,000 others.
"These forced arbitration clauses block consumers who have been wronged from joining class action lawsuits or otherwise appearing before an impartial court that can consider their injuries," said Vanita Gupta, president and CEO of The Leadership Conference on Civil and Human Rights.
"By forcing consumers into secret arbitration, corporations have long enjoyed an advantage in the process, and victims have often been precluded from sharing their stories with the press or law enforcement," Gupta continued. "The CFPB rule is simple. It says that consumers have the right to join together to enforce protections guaranteed by the Constitution, or federal, state, or local law."