The Bodyguard: Stage play highlights famous film, music of Whitney Houston
MIKE McGEE | 8/14/2017, 12:40 a.m.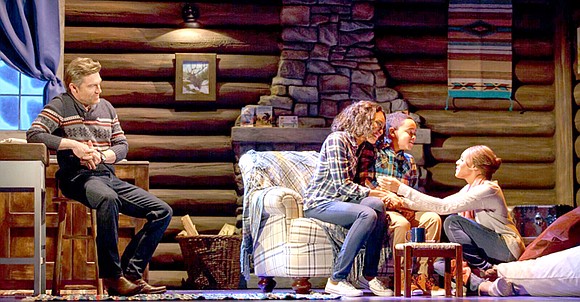 There is very little to criticize about this production. The story is somewhat thin, more of a substantial clothesline upon which to hang some of Houston's best known work, but what is there is done so well that it is almost a negligible point. The Bodyguard is now simply the closest way any of us will ever be able to see a live performance from Houston, and Cox makes it happen through her own gifted voice.
Still, as meager as the plot is, the script makes it seem a bit too convenient for the stalker to have such easy access to Marron – nightclubs, her own home, a secret cabin, and so on, an aspect that was better advanced in the film.
There is mention during the show that the character was an Army Ranger who did tours in Iraq and Afghanistan, but witnessing it live it comes off as if the man is a ghost who can appear and disappear anywhere with no effort or trace. It makes for a truly menacing villain, but also sets up the character as being almost invincible. In contrast, it is not unreasonable to imagine that somewhere right now, a real Army Ranger might be locking his keys in his car or forgetting to pick up bread at the grocery store.
At worst, however, this is a minor issue and doesn't distract from the other feature of the show: the physical and emotional electricity between Rachel and Frank that morphs into love, cutting through the clutter of show business egos and facades.
Mills, who is open and amiable to fans after the show, is the exact opposite onstage. All business and focused on the job, Frank slowly allows his emotional guard to fall while forcing himself to keep his lover safe, making for compelling internal conflict as he deals with external dangers. And his amusing effort at a karaoke version of I Will Always Love You is a crowd-pleaser.
Richardson, as the sister behind the star, has a voice that should not be missed. Lighting designer Mark Henderson complements the visual feast onstage, with every sequin and rhinestone from the costumes of Tim Hatley (who also designed the sets) caught by his illuminations.
The dancers and live musicians were all on point during the production, turning the musical into a genuine rock show at times that would rival anything in Las Vegas or Atlantic City, all under the direction of Thea Sharrock.