Kenyon Martin, giving back through mentorship
MIKE McGEE | 8/14/2017, 12:35 a.m.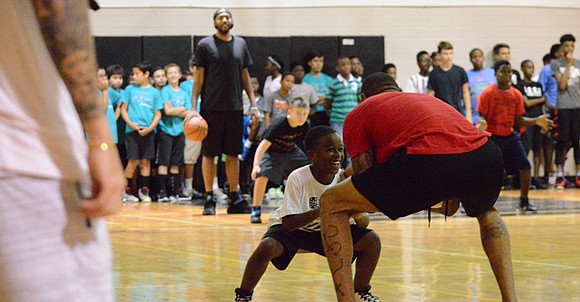 He noted the key to his camp was not so much about the job of being an athlete but rather the concern he showed the children coming up now in his old neighborhood.
"I made it in basketball, but it [doesn't] necessarily have to be basketball, but you can make it out of whatever situation that you're in."
What the NBA alum had to deal with as a child was a situation that many in the area potentially continue to cope with.
"Some of these kids grew up just like I did," he opened up. "Single mother household and no kids around with fathers. All of that's going on, man. So just for me to let them know that I made it out of this, that you can as well. No mater what it is – go a long way from it."
Martin concluded that stardom had nothing to do with giving back, nor his wide range of philanthropic causes, such as Hard At Work Kids, SafeHaven of Tarrant County, American Institute for Stuttering, The Salvation Army and others.
"I don't do it for photo ops. I honestly don't," he said. "I've done a lot. I've been places where no cameras have been there and nobody knows I do stuff. I do it for the enjoyment that these kids are going to get out of it, and what it does to my soul, knowing that I'm doing something positive."
Martin emphasized that there is still a need for leadership and local mentorship.
"More people need to do this," he said. "Not just basketball players … lawyers, doctors, different things you can get into the community and do. Let kids know that there are other things other than being a musician or athlete. Anybody can be a role model."
He revealed that a camp he held two years previously involved math and science as well as instruction on yoga and nutrition.
"This message is the message that I try to give: that you can have fun, you can be who you are without getting in trouble. You can be boisterous. You can be strong-minded, and be all of that, but still do good," he affirmed.
"Bad news sells, but I just try to be a positive story all the time."