Whitney Plantation in New Orleans Tour at offers cold look at slavery
KEVIN McGILL | 8/14/2017, 12:29 a.m.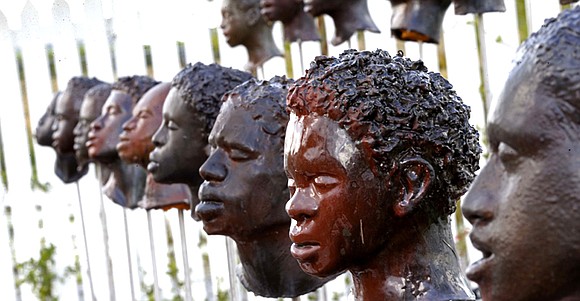 WALLACE, La. (AP) – Ceramic sculptures of hollow-eyed slave children haunt the Whitney Plantation, west of New Orleans, where owner John Cummings has infused the traditional antebellum plantation tour with an unflinching look at human bondage in the Old South.
Cummings, an attorney and real estate investor, opened Whitney more than two years ago as a slavery museum, bucking a tradition of plantation tours that romanticize antebellum life and gloss over the slave trade. Yes, there are live oaks arching over the walk up to a grand, restored main house full of period antiques. But there's also an artist's jarring monument to slaves slaughtered after a failed revolt – multiple rows of spikes topped with what look like the decapitated heads of African American men.
Purchased as a real estate investment more than 15 years ago, Whitney became something else for Cummings, an 80-year-old White man, as he examined volumes of documents related to the old sugar plantation and similar surrounding operations along the Mississippi River. Inventories of human beings valued like livestock or equipment and records of women touted as breeding stock were eye-openers, even for a wealthy, college-educated Southern man.
"I asked myself, 'How the hell didn't I know this?"' Cummings recalled. That led to years of research, consultation with historians and the transformation of the plantation into a sprawling showcase of art, history and memorials.
Whitney's look at slavery may be the starkest. But, it's not the only plantation addressing the issue, said Justin Nystrom, associate professor of history at Loyola University New Orleans.
"For a long time they've been touting the moonlight and magnolias antebellum fantasy," Nystrom said. "That's a dying idea."
Norman Marmillon, who runs tours on Laura Plantation, said people are hungry for true stories of the enslaved and those who enslaved them.
"I've been doing it for 25 years," Marmillon said.
While Whitney provides an expansive view of slavery throughout Louisiana, Marmillon said his tour tells only the stories of slaves and owners at Laura. The information is gleaned from 5,000 pages of documents preserved by the family that originally owned the plantation, including the property's namesake, Laura Locoul Gore. Her writings were discovered after her death in 1963 at age 101. The one-time plantation matriarch wrote about growing up in the years immediately after the Civil War and her realizations about slavery's cruelties – including the branding of slaves as though they were animals.
"We don't give a broad view of what slavery was about in the South," Marmillon said. "We take one place and we say, 'This is what happened."'
The historic plantations' increasing focus on slavery's cruelty comes as Southern cities grapple over the propriety of Jim Crow-era monuments honoring Confederate figures – witness New Orleans officials' decision to remove four such monuments this year. Nystrom sees it as a slow but sure devolution of reverence for the old Confederacy.
"I think the slavery experience is going to become crucial to the plantation tour as generationally we get further removed from the Old South, Lost Cause paradigm," he said.