Whitney Plantation in New Orleans Tour at offers cold look at slavery
KEVIN McGILL | 8/14/2017, 12:29 a.m.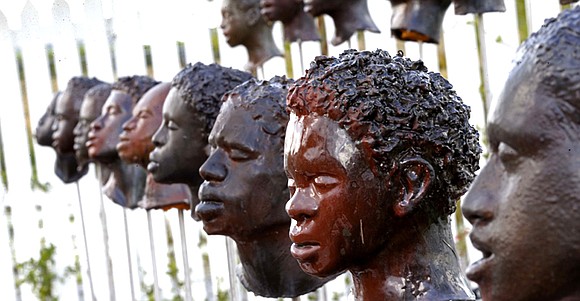 Some plantations offer education about slavery while maintaining the sense of Old South grandeur. Destrehan Plantation's website touts its education center in a former overseer's cabin, including a section dedicated to one of the largest slave revolts in history. The same website has a page showing a bride and groom under an oak laden with Spanish moss, promoting the venue as a prime spot for class reunions, conferences and weddings.
"I think this whole industry is a very difficult industry to navigate," said Ashley Howard, a Loyola history professor. "In essence, you're profiting off of thousands of peoples' misery. The fact that, at some of these you can drink a mint julep where people suffered atrocities – that's a very difficult thing to reconcile."
Demond "Ali" Johnson, a docent at Whitney, knows that sentiment.
"Coming to a plantation as a kid, on a field trip, I realized that they just brought me to the big house and showed me the architecture and all the wealth and didn't talk about anything about who worked there – what was done for them to have the things that they had," said the 41-year-old Black man with a background in computers.
Now he conducts daily Whitney tours, dispensing facts from construction and architectural details to the tragic cruelties of enslavement.
Howard sees room for improvement in the plantations' attempts to confront slavery. More focus is needed, she said, on the racism that oppressed ex-slaves in the decades after the Civil War, often as sharecroppers on the land where they once were enslaved. She'd like to see greater emphasis on the overall humanity of the unpaid captives who made the plantations grand places.
"Even in the midst of this terrible existence, they struggled and they rejoiced and they celebrated the common human experience," Howard said. "There were still children being born. There were still weddings to be had. There were still the same things we all loved as human beings."