Tulisoma returns to South Dallas
Literary event features best-selling authors, activities for the whole family
Special to The Dallas Examiner | 8/21/2017, 11:37 a.m.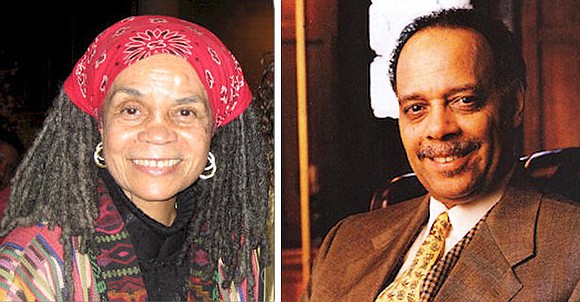 Special to The Dallas Examiner
Reading is the foundation of education. And children who learn to love reading generally have better reading comprehension. According to Reading is Fundamental, children who learn to read early have a better chance of overcoming the achievement gap.
The Tulisoma: South Dallas Book Fair was designed to promote literacy in the Southern Dallas region. Founded in 2003 by the late Leo V. Chaney Jr. and Dr. Harry Robinson, president and CEO of the African American Museum, the goal of Tulisoma – Swahili for "we read" – is to create a dynamic event tailored to engage local families and avid readers, while offering a showcase of nationally acclaimed and aspiring authors.
Tulisoma is back this year and will kick off with the Sutton E. Griggs Lifetime Achievement Award in Literature Dinner on Aug. 25 at 7 p.m. The dinner will honor literary icons Sonia Sanchez and Haki Madhubuti. There is a fee to attend.
Sanchez is the author of more than a dozen books of poetry, including Shake Loose My Skin: New and Selected Poems. She formed a writers' workshop in Greenwich Village, attended by poets Amiri Baraka, Haki R. Madhubuti and Larry Neal. With Madhubuti, Nikki Giovanni and Etheridge Knight. She also formed the "Broadside Quartet" of young poets, promoted by Dudley Randall.
During the early 1960s, Sanchez began to focus more on her Black heritage from a separatist point of view. She was a pioneer in developing Black studies courses at what is now San Francisco State University, where she was an instructor from 1968 to 1969. She was the first Presidential Fellow at Temple University, where she began teaching in 1977. She was nominated for both the NAACP Image and National Book Critics Circle Award for 1995 edition of Does Your House Have Lions? She won an American Book Award from the Before Columbus Foundation for Homegirls & Handgrenades in 1984.
Sanchez has received many honors, including: the Community Service Award from the National Black Caucus of State Legislators, the Peace and Freedom Award from Women International League for Peace and Freedom, the Pennsylvania Governor's Award for Excellence in the Humanities, a National Endowment for the Arts Award and a Pew Fellowship in the Arts.
She has lectured at more than 500 universities and colleges in the United States and has traveled extensively, reading her poetry in Africa, Cuba, England, the Caribbean, Australia, Nicaragua, the People's Republic of China, Norway and Canada.
Madhubuti has published 28 books – some under his former name, Don L. Lee. He is one of the world's best-selling authors of poetry and non-fiction, with books in print in excess of 3 million. His last books were Claiming Earth: Race, Rage, Rape, Redemption and Yellow Black, an autobiographical novel detailing the first 21 years of his life. He has also co-edited two volumes of literary works from Gallery 37, releasing The Spirit, and Describe the Moment. His poetry and essays were published in over 30 anthologies from 1997 to 2001. He also wrote Tough Notes: A Healing Call For Creating Exceptional Black Men.