Locked up for life: Part 2 of a national investigation
Confusion over non-mandatory terms
SHARON COHEN and ADAM GELLER | 8/24/2017, 3:13 p.m.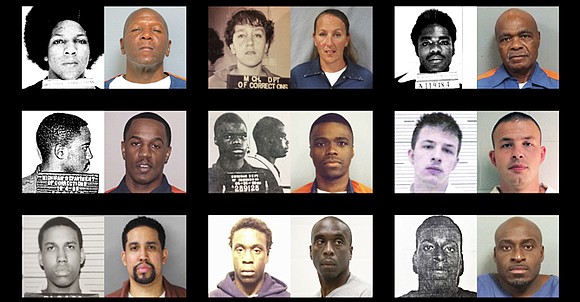 (AP) – The impact of last year's Supreme Court ruling goes far beyond the 2,000-plus offenders who faced mandatory no-parole sentences as teens.
In many states, legal challenges are being mounted on behalf of juveniles sentenced to life without parole at the discretion of a judge or jury, or those who are legally entitled to parole but serving such lengthy terms they are unlikely to ever get out. The latter group encompasses some 7,300 inmates, according to The Sentencing Project. The Supreme Court didn't specifically address these cases, however, and that's led to different outcomes.
Tennessee, for example, is so far refusing to resentence its juvenile life-without-parole inmates. That's because judges and juries have a choice in sentencing, but that choice is between life in prison or life with the possibility of parole after serving 51 years, an option Marsha Levick of the national Juvenile Law Center calls "cruel."
In Oklahoma, juvenile life without parole isn't mandatory, either, but unlike in Tennessee, lifers are getting a second chance after a state court said their age at the time of their crimes and efforts to rehabilitate must be considered. Inmates there are now filing motions for reduced sentences, and in Oklahoma County, the state's largest, First Assistant District Attorney Scott Rowland said his office will address each on a case-by-case basis.
"On the one hand this is a mandate from the U.S. Supreme Court, and we have to comply with it,'' Rowland said. "On the other hand, you're talking about disturbing sentences on crimes that may be three decades old, and very violent, heinous crimes. So the stakes are high.''
Responding to the investigation's findings on Monday, Jody Kent Lavy, executive director of the Campaign for the Fair Sentencing of Youth, called on the Supreme Court to take additional action.
"Given that the implementation of reform varies dramatically from state to state, as highlighted by the AP series, it's clear that the U.S. Supreme Court needs to take up this issue again and ban juvenile life without parole once and for all,'' Lavy said. "Otherwise, a child's fate in the justice system may be arbitrarily determined by his or her geographic location or race, as opposed to his or her capacity for growth and change.''
Heinous crimes
It is no exaggeration to say that Evan Miller's crime was heinous: He and another teen beat Cole Cannon with a baseball bat before setting fire to Cannon's trailer with him inside. At a resentencing hearing in March, Miller's lawyers cited his childhood of physical abuse and neglect and argued that at 14, his brain wasn't fully developed. The prosecution said his actions were those of an adult who acted mercilessly.
Miller apologized to Cannon's family, but the victim's daughter, Cheatham, rejected that as insincere, "empty words.'' She testified of anger and despair. "To bring this up and make the victims' families relive this, that's being cruel and unusual,'' she said.
Under an Alabama law adopted last year, a judge can resentence Miller to life without parole or allow parole after 30 years. A decision is pending.