Comedian, civil rights activist who 'answered the call'
DAISY NGUYEN | 8/28/2017, 7:45 a.m.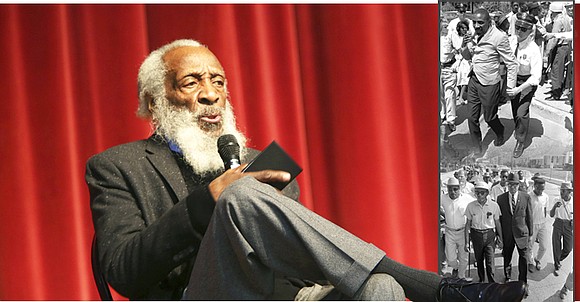 LOS ANGELES (AP) – "Dick Gregory was an activist and creative genius who knew the struggle for liberation could only take flight if prominent individuals like himself leveraged their considerable influence, and joined the masses on the front lines of the dismantling of Jim Crow," said NAACP Board Chairman Leon W. Russell. "We have lost one of the most important voices of social justice vigilance in the last fifty years. His intellectual style of humor defied racist stereotypes, eschewed buffoonery and provided white America rare insight into the unquestionable humanity of Black people."
Dick Gregory, the comedian and activist and who broke racial barriers in the 1960s and used his humor to spread messages of social justice and nutritional health, has died.
As one of the first Black standup comedians to find success with White audiences, in the early 1960s, Gregory rose from an impoverished childhood in St. Louis to win a college track scholarship and become a celebrated satirist who deftly commented upon racial divisions at the dawn of the Civil Rights Movement.
"Where else in the world but America," he joked, "could I have lived in the worst neighborhoods, attended the worst schools, rode in the back of the bus, and get paid $5,000 a week just for talking about it?"
Richard Claxton Gregory was born in 1932, the second of six children. His father abandoned the family, leaving his mother poor and struggling. Though the family often went without food or electricity, Gregory's intellect and hard work quickly earned him honors, and he attended the mostly white Southern Illinois University.
"In high school I was fighting being broke and on relief," he wrote in his 1963 book. "But in college, I was fighting being Negro."
He started winning talent contests for his comedy, which he continued in the Army. After he was discharged, he struggled to break into the standup circuit in Chicago, working odd jobs as a postal clerk and car washer to survive. His breakthrough came in 1961, when he was asked to fill in for another comedian at Chicago's Playboy Club. His audience, mostly White Southern businessmen, heckled him with racist gibes, but he stuck it out for hours and left them howling.
That job was supposed to be a one-night gig, but lasted two months – and landed him a profile in Time magazine and a spot on The Tonight Show.
Vogue magazine, in February 1962, likened him to Will Rogers and Fred Allen: "bright and funny and topical ... (with) a way of making the editorials in The New York Times seem the cinch stuff from which smash night-club routines are rightfully made." "I've got to go up there as an individual first, a Negro second," he said in Phil Berger's book, The Last Laugh: The World of Stand-up Comics. "I've got to be a colored funny man, not a funny colored man."
Gregory's sharp commentary soon led him into civil rights activism, where his ability to woo audiences through humor helped bring national attention to fledgling efforts at integration and social equality for Blacks.