Locked up for life: Part 3 of a national investigation
Savoring freedom after being held for decades
ADAM GELLER and SHARON COHEN | 8/28/2017, 7:40 a.m.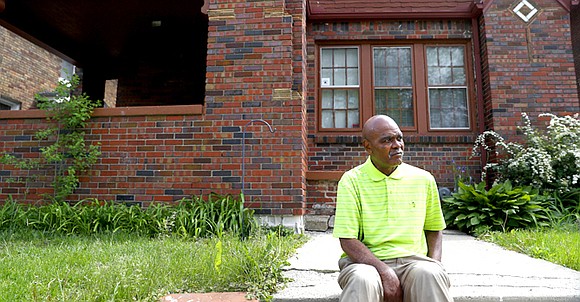 WILMINGTON, Del. (AP) – It's just a few blocks from the house Earl Rice Jr. left behind as a teenager to the places he remembers. But after more than four decades in prison, he has ground to cover.
Skirting Franklin Street's neatly trimmed lawns in long strides, and praising the glories of the afternoon heat, he reaches the park where he and his brothers used to go sledding. Across 18th, children, laughing and shouting, bound down school steps. Rice slows, taking it all in.
"For 43 years I'm behind a wall or some kind of a fence with guard towers ... and then you come out here," he said. "I can imagine what Buzz Aldrin and Neil Armstrong and them felt like going to the moon, because that's what it seems like. I'm on a different planet."
Rice, jailed at 17 for a purse snatching that took a woman's life, is 61 now. He is one of dozens of inmates – sentenced to life in prison without parole for crimes committed as juveniles – who have been released since the U.S. Supreme Court ruled such mandatory sentences amount to cruel and unusual punishment. Courts must recognize teens' incomplete brain development and their potential to change, the justices found.
Rice walked out of a Pennsylvania prison in September to find his fiancee at the gate, a father waiting to take him in and a daughter who now calls each day to say, "Good morning, Daddy."
Though others have confronted less welcoming realities.
When John Hall was released from a Michigan prison in February after nearly 50 years behind bars, he had $1.37 in his pocket. At 67, he carried his life's possessions in a few boxes: a small television and a photo album filled with faded newspaper clippings and pictures of himself in white satin boxing trunks, from his fighting days as "Kid Hall." With no family to greet him, he was met by his lawyer and volunteers who brought him to his new home – a Detroit rescue mission.
"I don't think you can find anyone who really can describe how it feels to be free ... but I'm always thinking about my future and sleeping in the streets and not having a chance to even get in the fight for the life that I want," Hall said then. "The world has moved past me."
In the weeks since, Hall has joined Rice in embracing a truth the Supreme Court justices never addressed.
Juvenile offenders can take responsibility for their crimes. Judges and parole boards can assess how they have changed. But to make it at 60-something in a world that has tossed aside most of what you knew as a teenager, it takes something more.
Earl Rice's crime
By 17, Rice had spent a year in a juvenile detention facility. The oldest son in a family of nine children, he was raised by a homemaker and a maintenance worker. His father's sideline as a jazz organist kept him away nights – an absence the elder Rice, 89, said he regrets. Rice Jr., by his own account, was "ornery as hell," known to police for stealing cars and break-ins.