Queen Sugar stars kick off national initiative
MIKE McGEE | 8/28/2017, 7:43 a.m.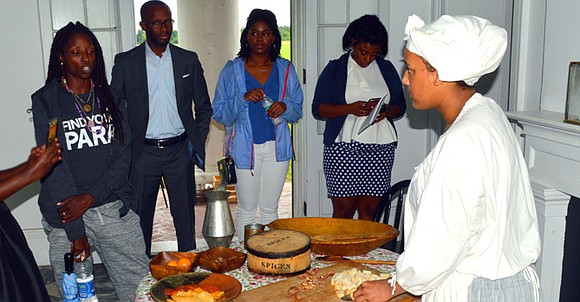 The loss of the community is now discussed as part of the official program at the battlefield as a method of reminding visitors of recent history, honoring those who lived nearby and to further flesh out the complexity of America and ethnicity, even when the physical traces have vanished.
"What I appreciate about the National Parks Service is their commitment to tell a comprehensive American story," Sobel confessed. "So, not only the good, and America at its best, but also the bad and the ugly. Is it perfect? No, but I think that they are very committed and dedicated to telling as complete a story as possible."
There were youthful reenactors stationed at various spots about the Malus-Beauregard property; a woman portraying a Choctaw Indian of the period; White and free Black traders, various settlers and a young slave woman.
The battleground was a former sugarcane field, and Wesley – whose Queen Sugar character, Nova, is a reporter who inherited partial ownership of a New Orleans sugarcane farm – took an interest in questioning the girl. Wearing a plain, ankle-length blue dress and apron, a white cotton wrap covering her head, she prepared a dinner of beef stew in character for the master of the house.
"Who are your parents?" Wesley asked.
"My father was a field slave," she answered.
"Where's your mama?" the actress pressed.
"I was taken from her," the actor uttered quietly.
Every subsequent question Wesley asked about the girl's feelings or attitudes were met with a resigned, even depressed, statement that put forth her owner's point of view, underscoring a fatalistic outlook on what a slave's life meant and where it was headed.
Back in the modern world, where racial issues of a different sort continue to bedevil communities, Gardner discussed the effect the battlefield visit had on her.
"For me, I was very interested and I wanted to learn, and I was hoping for – what happened today – that my experience is deepened," the actress remarked. "I felt that I had more of a context for the land, and for the history of it, and for the importance of it."
She called the experience "a convergence." Wesley offered that the parks keep her in touch with her past.
"I loved to play outside as a kid, and playing Nova, for me, has really helped me embrace myself," she added. "I feel like, our youth, they don't play anymore; they're on their phone or on their iPad, and so I think it's really important to be a part of something like this to spread the word, uphills and down – and even those who think they're maybe too old for the parks, things such as walking meditation, what nature can heal from you, and what nature can give you just by playing in the grass.
"And I used to remember that, I really loved playing outside; well, that's because my mom was like, 'Go outside.'"
Gardner suggested that breaking free of patterns and customs was important for everyone.
"To be honest with you, I think as Black folks, we can feel like, 'Oh well, the national parks, they're not for us. We're not the ones who go camping, and on and on and on.' And I know for me, being a part of this show, filming on land that is so steeped with history and meaning with a story that is so steeped with history and meaning, that has been pretty revolutionary for me," she admitted. "And I refuse to not go camping and I refuse to have the parks not be for me and for my folks."
Wesley also took a firm stand on the personal significance or national parks.
"I think I need to embrace my platform as an actor and spread the word of being aware of self-care and taking care of ourselves as a people so that we can help each other and support each other," she considered. "So supporting parks and things like that, that are going to help our children grow more mentally; nature is an education for a child that, you can't really say what it is. Just say, 'Go outside,' and they learn."