Former quarterback savors HBCU experience
DAVID BRANDT | 12/5/2017, 9:30 p.m.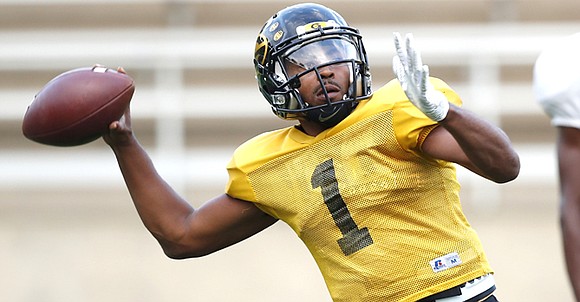 Associated Press
(AP) – GRAMBLING, La. – DeVante Kincade was bouncing around a humid basketball gym in August, wiping sweat from his forehead while trying to sink 3-pointers. With a football.
Grambling's senior quarterback was about to help lead a football practice on hardwood courts after torrential downpours the night before had left the Tigers' practice fields unplayable. Receivers occasionally slipped and fell to the floor while running their routes because of condensation on the surface.
This scene would certainly be unlikely at most Southeastern Conference schools – many have indoor football practice facilities. And Kincade knows firsthand about the immaculate SEC digs after playing two seasons at Mississippi.
But the former Ole Miss backup QB and his teammates believe what they have at Grambling more than makes up for whatever they might be missing.
"The grind is what makes it even sweeter," he said.
The challenges of playing football at a Historically Black College or University have been well documented. Practicing in gyms, little television money and long bus trips are just part of the deal.
But playing at an HBCU is not just about entertaining halftime shows or all those amenities the players lack. It's about community.
Kincade said it's an experience to savor.
"There's nothing like an HBCU," he explained. "Don't worry about the facilities. The life at an HBCU makes you forget about the facilities because there's so much enjoyment. They say, `Everybody is somebody at Grambling,' and that is so true."
There aren't any FBS programs at an HBCU. More than 20 FCS programs are considered HBCUs, including the entire Southwestern Athletic Conference and Mid-Eastern Athletic Conference. Several others play at the NCAA Division II level.
Tucked just off Interstate 20 in north Louisiana, Grambling's approximately 5,000-student campus can feel – and look – a lifetime away from a sprawling SEC campus and one of its majestic football cathedrals. At Ole Miss, Kincade said everyone was friendly, but the gleaming athletic and academic facilities sometimes created a barrier to a normal campus life.
At Grambling, Kincade said, it's not unusual for him to hang out at one of the campus cafeterias or at the student union, socializing with other athletes but also regular students.
"There's nobody here looking at you like a star – you're just another student," he said.
The SWAC's preseason offensive player of the year is quick to say that he enjoyed his time at Ole Miss and has nothing but respect for former coach Hugh Freeze. Still, when it became apparent he wasn't going to start for the Rebels, he transferred to Grambling, and hasn't regretted the decision once.
The pipeline from HBCUs to the NFL is not as well-traveled as it was prior to integration, but the road exists. About 30 former HBCU standouts are currently in the league, and the 6-foot-1, 190-pound Kincade hopes to add his name to the list.
NFL Network analyst Bucky Brooks said scouts are aware that HBCUs are still a place teams can find undiscovered or underappreciated talent. He said Kincade has a "big-time personality" and could be successful in the NFL given the right opportunity.