Former quarterback savors HBCU experience
DAVID BRANDT | 12/5/2017, 9:30 p.m.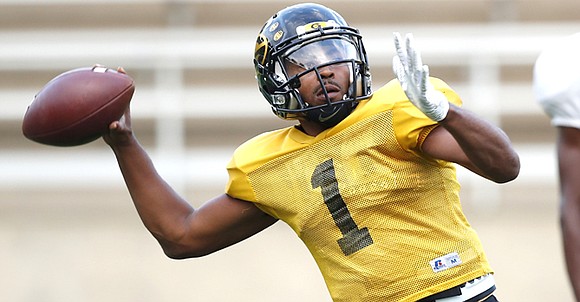 "The postseason All-Star games are going to be important for him because some will question his size," Brooks said. "But the thing is, he's got a live arm, he's athletic and he's good at finding passing lanes."
Kincade's move to Louisiana has also worked out for Grambling.
He's led the Tigers to a 20-2 record during his two seasons – including a 16-0 mark in SWAC games – and the program is trying for its second straight conference title and Celebration Bowl win in December. Kincade has thrown for 2,286 yards, 18 touchdowns and just three interceptions this season.
The Tigers are preparing for the annual Bayou Classic game in New Orleans against rival Southern on Saturday.
Kincade's mother is thrilled that her son has been able to lead a program at quarterback and have success doing it. Even better, it's only a few hours from their home in Dallas.
LaTonya Boyd has struggled with some health issues over the past several years, including blood clots and what she called mini-strokes, but she's been able to attend most of her son's games the past two seasons. She said Grambling's smaller atmosphere has been beneficial.
"He's a humble kid and the school is very family-oriented," Boyd said. "All of the coaches have been so good to him and are good examples."
Grambling's appeal isn't a surprise for one of the school's most famous alumni, quarterback Doug Williams. After a stellar career at Grambling in the 1970s, he became the first Black starting quarterback to win a Super Bowl, leading the Washington Redskins to a 42-10 pummeling of the Denver Broncos in 1988.
The 62-year-old Williams, who is the Redskins' senior vice president for player personnel, is disheartened by talk that HBCUs might not be relevant in today's world. He said there are an "awful lot of kids who need an HBCU."
"It's not about division. That's not the way it is," Williams said. "Going to Grambling inspired me and helped me become the person I could."
Grambling coach Broderick Fobbs has built a mini-dynasty in north Louisiana. He played for Grambling in the 1990s and has found the sweet spot for recruiting good athletes who might not be quite SEC-caliber but are a good fit for the HBCU experience.
"It offers a little different thing to the student-athlete," said Fobbs, 43. "There's a lot of universities that are inclusive for minorities, but I think in all areas they're not at times. Let's face it: The elephant in the room is that racism exists on many levels and many times African Americans have to transform to a different way than they're normally, culturally doing things in order to be received and accepted from time to time.
"And I think a lot of that has to do with why HBCUs are so important. It allows you to be yourself, be comfortable and to be around a lot of the same things that you grew up listening to and being around. ... It's almost like sleeping in your own bed or being in your own house."
A house with at least one upgrade – a new artificial turf field with better drainage was installed at the football stadium in late August.
Just something else Grambling can take pride in.