Understanding Parkinson's disease
GLENN ELLIS | 12/5/2017, 8:48 p.m.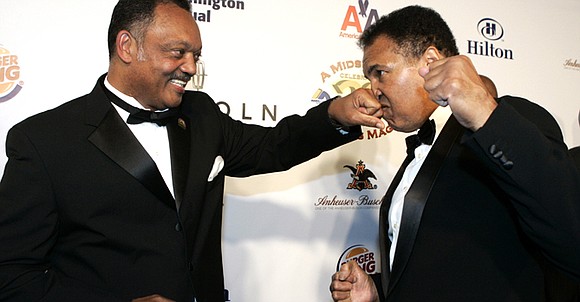 Strategies for Well–Being
Recently, civil rights leader, 76–year old Rev. Jesse Jackson Sr., revealed that he has Parkinson's disease.
Rev. Jackson said that this all came about after family and friends noticed a change in him about three years ago, and he could no longer ignore symptoms of the chronic neurological disorder that causes movement difficulties.
Rarely do we hear about high-profile members in the African American community being affected by Parkinson's.
But make no mistake; Parkinson's disease is not a White man's disease.
Anyone can get it. One of the most high-profiled African Americans with Parkinson's was heavyweight boxing champion Muhammad Ali, who was diagnosed at age 42 in 1984.
So, what is Parkinson's?
The disease affects the way you move and happens when there is a problem with certain nerve cells in the brain.
It is a rare and curious phenomenon, affecting approximately 1 in 300 people, usually between the ages of 50 and 65. It is slightly more common in men than in women.
Parkinson's disease is a degenerative disorder of the nervous system that affects predominately dopamine-producing nerve cells in a specific area of the brain. Normally, these nerve cells make an important chemical called dopamine. Dopamine sends signals to the part of your brain that controls movement. It lets your muscles move smoothly and do what you want them to do. When you have Parkinson's, these nerve cells break down. Then you no longer have enough dopamine, and you have trouble moving the way you want to.
Parkinson's gets worse over time, but usually this happens slowly, over many years. And there are good treatments that can help you live a full life.
In this disease, race matters. African Americans are less likely to be diagnosed with Parkinson's, are more likely to have delays in diagnosis and, once diagnosed, are undertreated when compared with white patients. This translates to worse outcomes, including higher mortality.
In addition, African Americans with Parkinson's suffer greater disability and more severe cases of the disease than whites. Why? They often ignore the symptoms.
In a study at the University of Maryland, researchers found that, while Blacks may be less likely to develop Parkinson's, they are more likely to be undiagnosed with the disease. Many of the symptoms may be brushed off as just signs of old age, leading to treatment delays among Black patients. There is a critical need for African Americans to pay more attention to symptoms that may be associated with Parkinson's, such as these five:
Slurring speech – One common sign of Parkinson's is the inability to speak clearly, even slurring one's speech.

Trembling hands and fingers – Even when the hands and fingers are not in action, trembling may occur.

Muscle stiffness and pain – These symptoms often lead to patients having difficulty with everyday tasks like getting out of bed in the morning.

Dry skin – This is also one of the signs of Parkinson's, including dry, rough skin and dandruff.

Loss of facial and body gestures – Patients often lose their ability to show emotions like smiling, blinking and moving their hands and arms to gesture.