Starbucks breaks new ground at Red Bird Mall
MIKE McGEE | 12/6/2017, 2:48 a.m.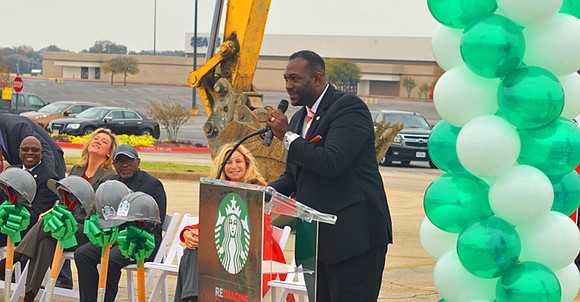 "So what I've realized that what Starbucks wants to do is not only sell coffee, but improve the neighborhood. Improve the city of Dallas," Rawlings said. "So we signed up. They put their money where their mouth is. It's not just about coffee but about transforming lives. As we start to think about how people can put their capital to work in Southern Dallas, you have to understand something we've said [since] day one; that Southern Dallas is a wonderful investment opportunity," he maintained.
Traci York, a regional vice-president of operations for Starbucks, described how her mother was a former Dallas ISD teacher in Oak Cliff who spent many hours and many dollars in and around the mall. She also hinted at some of the things the java giant had already done for the surrounding community her mother so often frequented, such a bringing together more than 50 companies for the Dallas Opportunity job fair in May. The event specifically focused on youth 16 to 24 who were not in school and were looking for employment or educational opportunities.
"In a single day we hired nearly 1,000 young people, launching an effort with the city and this community to reach more youth, long term," York noted. "That day was a reminder of the strength and resilience of this community and our city's youth and the potential we have as a community to work together and drive meaningful opportunity for them, and bridge the divide."
The Starbucks representative continued and voiced specifically how the coming store will bring positive change to the neighborhood.
"Our new store here in Red Bird is a key part of that work and makes a historical milestone for us," York commented. "Working together with the community, this new location will support revitalization efforts; create meaningful local jobs, investing in local, minority-owned contractors to build the store; providing in-store job skills training programs to local youth.
"The hub," she concluded. "This will be a community hub. This will be the heartbeat of Southern Dallas."