Mid-Cities to host inaugural MLK parade and celebration
MIKE McGEE | 12/17/2017, 5:30 a.m.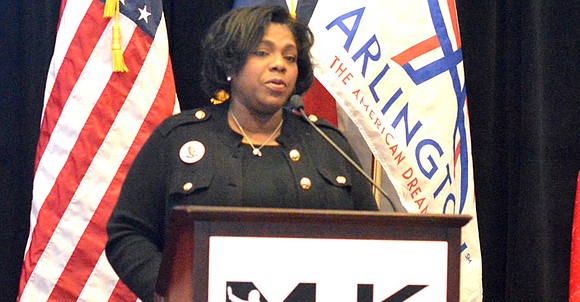 The Dallas Examiner
The memory and legacy of arguably the world's best known civil rights pioneer was the subject of a recent announcement in Arlington. A small audience gathered at Globe Life Park Dec. 1 to hear the latest news about the inaugural Dr. Martin Luther King North Texas Parade and Celebration, a 2018 event that will provide many smaller communities with a convenient and centralized area wide observance of the doctor's work.
"When we set out to do this, actually, two years ago, we said we want to do something that starts becoming a regional kind of weekend of celebration and of activities," said NTMLK Executive Producer Winsor Barbee.
"Sometimes you don't know where it is going to lead you ... today we come, 2017, in preparation for [the] 2018 regional annual North Texas MLK parade and celebration. And we stand today just totally excited, and it's coming together unlike we ever thought it was coming together."
The Dallas parade will still be held on Martin Luther King Boulevard as always, according to the Martin Luther King Jr. Community Center website. Barbee remarked that this newer celebration was inspired by many who wanted to recognize King but wished to simplify the logistics to a celebration for residents of the Mid-Cities area.
"People said, 'Well, how did you get to Arlington?'" she voiced about the decision. "Well, when you're trying to do a regional parade, you say, 'Where does everything intersect? What is that regional intersection that makes it easy for people to access?' A spot that people know and we can say, 'Hey, we're proud of this location that we have chosen.'
"The weekend is about acts of service and entertainment, so what better place to have it than the Arlington Entertainment District? That was determined the summer of 2016," the executive producer explained. "From that point, we started working to bring the event to Arlington."
The next step led parade founders into negotiations with the city government and tenants along the parade route, which will begin on Jan. 15 at AT&T Stadium and end approximately 0.8 miles away at Road to Six Flags Street. It was a major undertaking due to the sheer scope of the vision the founders had.
"It was a breakthrough; a team of accountability partners, a team of specialists that understood putting on entertainment events," Barbee noted.
"As we got that together and kept working, eventually the mayor said, 'Thumbs up. Move forward.' And that was 12 months later. It happened this summer."
Finding sponsors for such a new venture was an additional obstacle for organizers.
"Who do we really need at the table to be the pillars that are actually holding the parade up and to cover various entities that we know are going to be necessitated to make this a great weekend and a great celebration and parade?" Barbee recalled as she described the hunt for further support.
After working out that the celebration may bring people into the city who would need a place to stay, she was able to nail down the Hilton Arlington as the first major sponsor. American Airlines was next. The company, via assistance from the African American Diversity Network of American Airlines, will not only serve as the official airlines of the event, but also as parade grounds crew.