Black women seek rewards from Democrats after helping Alabama race
JESSE J. HOLLAND | 12/21/2017, 9:30 a.m.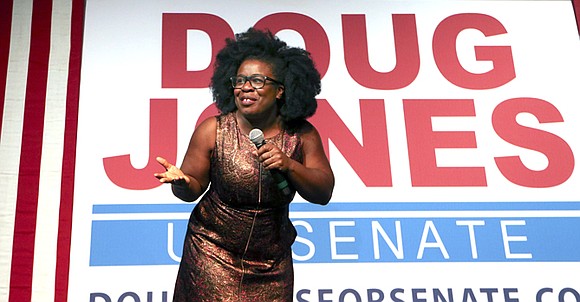 Washington — (AP) – Once again, Black women showed up for Democrats, with nearly all of them voting in Alabama for new Sen. Doug Jones, just as they did for Democratic candidates up and down the ballot in other states over the last few months.
The same women, having proven their loyalty by voting 98 percent for Jones, now wonder whether the Democratic Party will return the favor by sharing some of the party's political power, handing over places at the negotiating table and pushing legislation that speaks to their unique issues.
"Black women showed up and showed out," said Kimberle Crenshaw, co-founder of the African American Policy Forum. In "any other context, people who get it 98 percent right, they'd be at the head of the class. It's time for Black women to be at the head of the political class."
Black turnout was also high, at around 30 percent, according to exit polls. That level of support mirrors what Black women did in Virginia, where 91 percent of them voted for incoming Virginia Gov. Ralph Northam, and in New Jersey, where 94 percent voted for incoming Gov. Phil Murphy.
Those women also swept other candidates into office, including Lt. Gov. Justin Fairfax, the first Black candidate to be elected statewide in Virginia since Gov. Doug Wilder in 1989.
"Let me be clear: We won in Alabama and Virginia because #BlackWomen led us to victory," said Tom Perez, chairman of the Democratic National Committee. "Black women are the backbone of the Democratic Party, and we can't take that for granted. Period."
In Montgomery, Alabama, 70-year-old Annette Brown said she sometimes considers voting Republican, but there was no way she was going to vote for firebrand Roy Moore.
"I've been a Democrat all my life, and I'm sure not going to switch for this election. Sometimes I feel like swinging, but not for Moore," she said.
Brown said allegations that Moore pursued teenage girls while in his 30s and his waving of a gun onstage to emphasize his views on the Second Amendment made her decision easy.
"I believe the ladies. And he's just off kilter anyway. When he pulled out that gun on stage, that was it for me," Brown said.
Black women have their own unique voting-mobilization strategy, said Barbara Arnwine, president of the Transformative Justice Coalition.
"That strategy is what I call 'my momma,'" Arnwine said. "You see, Vera Arnwine, when she knows an election is coming up, she gets on the phone. She calls everybody she knows. And she says, `Are you voting? Are you registered? ... You better get out there and do it.' So this is what we do and it's just so powerful."
Tuesday's election continued the trend of Black women over-performing for Democratic candidates.
In the 2016 presidential race, 94 percent of Black women voted for Democrat Hillary Clinton while 53 percent of White women voted for Donald Trump. In 2008 and 2012, Black women voted at a higher rate than any racial or gender group, each time giving President Barack Obama 96 percent of their vote.