Black women seek rewards from Democrats after helping Alabama race
JESSE J. HOLLAND | 12/21/2017, 9:30 a.m.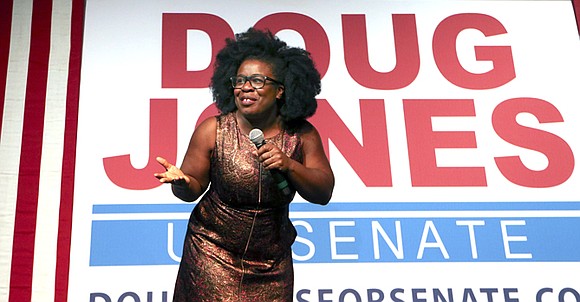 continued — While Black men also turned out in high numbers for Democrats, Black women historically have been the backbone of the vote-mobilization efforts, but they rarely get the credit, said LaTosha Brown, a Selma, Alabama, native and co-founder of the Black Voters Matter Fund. In Alabama, Black women were on the ground working without much fanfare, just as they've done all the way back to the Civil Rights Movement, she said.
"Black women stand and have continuously been standing in the gap, and been providing an enormous amount of leadership because we don't just bring our own issues. We bring our community with us," she said.
In addition to voting, Black women are running for office, testing whether the Democratic Party will stand behind them in the 2018 elections and beyond. Stacey Abrams is running to be Georgia's first Black governor. In Virginia, Vangie Williams hopes to become the state's first Black congresswomen.
In 2017, Black women held only two statewide offices – GOP Lt. Gov. Jenean Hampton of Kentucky and Connecticut state Treasurer Denise Nappier, a Democrat. Black women are mayors of seven of the nation's 100 largest cities and hold 271 state legislature seats, according to the Center for American Women and Politics at Rutgers University's Eagleton Institute of Politics.
Black women say they now need to be compensated for their devotion. Democrats also need to share some of their positions of power with Black women on the ballot and inside political party machines on local, state and national levels.
Sen. Kamala Harris of California, who is the only Black woman in the Senate and is already being mentioned as a 2020 presidential candidate, said Democrats and progressives need to go beyond just thanking Black women.
"Let's address issues that disproportionately affect Black women – like pay disparity, housing & under-representation in elected office," she said Thursday on Twitter.
Rep. Shelia Jackson Lee, a Texas Democrat, said she and other Black women Democrats plan to put together a package of legislation that will speak to Black women's issues and present it to Democratic leadership with a message.
"You need to address those whose vote, not check, gave you an opportunity," Jackson Lee said, describing an initiative that might include major points such as education, the economy, health care and the criminal justice system. "You're bragging that you want us to be in the civic process. Now do something for that."
Bill Barrow/ Associated Press contributed to this report.