Chicago mayor warns Trump deploying federal troops counteracts community policing
DON BABWIN | 2/6/2017, 10:02 a.m.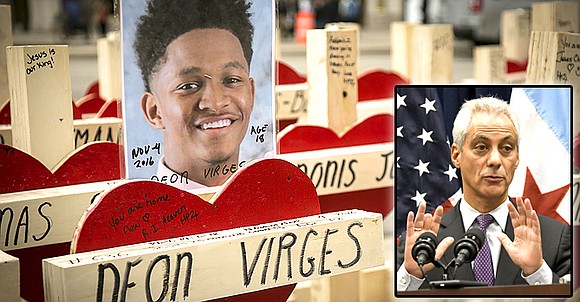 The numbers were slightly different from the latest tally by the Chicago Police Department. As of Tuesday, police said, 234 people have been shot in 2017, including 38 who died. At this point last year, 227 people had been shot, including 33 deaths.
Department spokesman Anthony Guglielmi explained that the department's numbers are slightly different because they do not include shootings by officers, shootings that were considered "justified," such as those that were in self-defense, and shootings that were investigated by state police because they occurred on expressways.
It appears that the president's numbers for homicides came from the county's medical examiner's office, Guglielmi said.
Earlier this month, before he took office, Trump tweeted that Emanuel should ask for federal help if he isn't able to bring down the number of homicides.
Rep. Luis Gutierrez, a Chicago Democrat, called the president the "tweeter-in-chief" and said Trump would "rather spend his time on Twitter" than look for ways to reduce gun violence.
"The president wants publicity and to be seen beating up on Democratic elected officials and appearing hostile to a big city like Chicago in the eyes of his suburban and rural voters," Gutierrez said.
Another Chicago Democrat, Rep. Mike Quigley, called Trump's threat "reckless and misguided" and a "gross overreach of federal power." He called on the president to increase funding for federal programs that he said were cut by Republicans but would help local law enforcement. He also called on Trump to support "commonsense, pragmatic gun laws."
Michael Tarm/Associated Press contributed to this report.